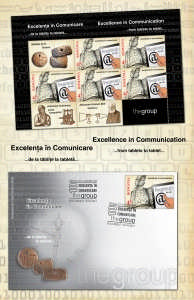 The stamp is often a basic tool of communication and interaction processes at both personal and official level, as this miniature art object ennobles, by itself, the communication between people and between institutions, supporting its fulfilment and transformation into concrete and tangible results.
A stamp accompanies moods and shares emotions, builds bridges and reduces distances; it overcomes time, indicating notable landmarks, and gives symbolic value to those it praises, inviting both the public and collectors to gather serious stories in concerns with a playful fragrance and files kept with the secret passion of recording history.
Therefore, a philatelic project dedicated to professional performances, in an industry animated by the stamp itself, as part of its augury meant, is a landmark and also a pledge for "Excellence in Communication".
The postage stamp issue suggestively entitled Excellence in Communication. From tablets to tablet is Romfilatelia's latest anniversary project, through which the stamp pays tribute to the performance, vision and professional innovation of the communication agency The Group, while also celebrating a decade of intertwining the passion for art and innovation with the science of intelligent communication.
In Romania, excellence in communication was transformed into an art and is highly professionalized by
The Group, thus contributing, in their 10 years of activity, to the success of hundreds of brands, through complex advertising campaigns, sophisticated public relations programmes, savoury commercials, ingenious marketing projects and numerous innovations in the Romanian marketing-communication industry.
The postage stamp of the issue, with the face value of lei 4.70, sends the message of the communication evolution over time, in a world transformed by the rapid flow of information and new technologies of data transmission. Its image suggests that in time we have witnessed a shift from the offline to the online environment, the two framework aspects of communication being depicted simultaneously: on one hand, we have a graphic representation of a parchment with a quill; on the other hand, we see a tablet with a sliding index moved through the touch motion.
The margin of the sheet depicts the portrait of Johannes Gutenberg together with his printing press, the figure of Alexander Graham Bell with his invention, the telephone, as well as the Tartaria tablets (5500 – 5300 BC), which were discovered by the Cluj born archaeologist Nicolae Vlassa in 1961, in the town of Tartaria, Alba county.
The tablets belong to the National Museum of Transylvanian History, and their images are symbolic for the evolution of communication.
Technically, the issue is completed by a first day cover, and as page composition were used the sheet of
20 stamps and the minisheet of 5 stamps + 1 label + 3 TABS.
Starting with Thursday, April 30th, 2015, the postage stamp issue Excellence in Communication. From tablets to tablet will be available in all Romfilatelia shops in Bucharest and countrywide.
Romfilatelia thanks the National Museum of Transylvanian History for the support granted in the achievement of this postage stamp issue.
 For further information, please contact the Public Relation Office:
Tel: 021 / 337 24 42