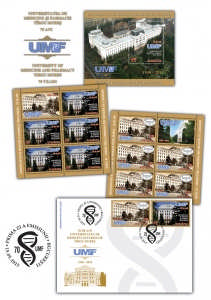 Bringing to the public's attention one of the most prestigious and emblematic symbols of the city of Tirgu Mures, Romfilatelia celebrates the 70th anniversary of the University of Medicine and Pharmacy Tirgu Mures, through a anniversary philatelic issue.
The stamp, whose educational role has been thoroughly expressed over time, thus becomes an instrument for the promotion of one of the most famous and appreciated symbols of Tirgu Mures – the University of Medicine and Pharmacy.
Tirgu Mures is a traditional academic city, with a touch of history present at every step. The building hosting the University was built between 1906 and 1907 by the city hall, after a project designed by the Grünwald brothers, in the secession style. Later, the University has gone through several processes of reorganization, receiving its current name in 1991 and becoming a landmark in the medical education, with modern buildings, unique facilities supporting the educational programs and an innovative research infrastructure at the highest standards.
The postage stamp issue 70 years, University of Medicine and Pharmacy Tirgu Mures joins all the manifestations organized under the auspices of this anniversary, marking a unique moment in the existence of this emblematic academic institution, known and recognized both nationally and internationally, for the special merits and results it achieved over time.
The two stamps of the issue, having the face value of lei 3.30 and lei 8.10, reproduce the University's building, in different periods of its existence, with their respective logos.
The souvenir sheet with the face value of lei 9.10 represents a contemporary, aerial image of the building, allowing for a better visibility of its architecture.
Besides the two stamps, the issue is completed by a first day cover, and as page composition were used the sheet of 20 stamps, the minisheet of 5 stamps + 1 label and the perforated souvenir sheet.
Starting with Friday, May 15, 2015, the postage stamp issue 70 years, University of Medicine and Pharmacy Tirgu Mures will be available in all Romfilatelia shops in Bucharest and countrywide.
For further information, please contact the Public Relation Office:
Tel: 021 / 337 24 42