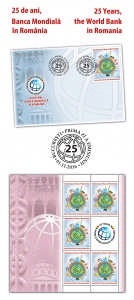 A world free of poverty, improving the conditions of living and boosting shared prosperity for the poorest 40% of the population, this is the assumed mission of the World Bank Group (WBG), the leading international organization that provides financial and technical assistance to countries around the world.
Romania's partnership with the World Bank Group traces its origins back to 1972, when the country became a member of the International Bank for Reconstruction and Development (IBRD) and later Romania joined ICSID in 1974, IFC in 1991, MIGA in 1992 and IDA in 2014.
Over the years, World Bank's involvement had a great impact nationally. This institution's support was central to help the country stabilize its economy in the early 1990s, lay the foundations for EU membership in 2007 and promote faster convergence and a more inclusive growth in Romania. Investments from IFC have stimulated job creation for thousands of Romanians, fostered private sector growth, and investors' confidence in the Romanian economy.
This year marks 25 years since the opening of the World Bank Group's resident office in Bucharest, occasion on which Romfilatelia marks this anniversary moment on national stamps, in a project suggestively entitled 25 years, World Bank in Romania. It is available starting with Tuesday, November 1st, 2016, in Romfilatelia stores in Bucharest, Bacau, Brasov, Cluj-Napoca, Iasi and Timisoara.

The issue's stamp, having the face value of lei 12, represents an allegory, with the silhouette of Romania in the centre of the image, surrounded symbolically by areas in which the World Bank Group has had a significant impact over the last 25 years: agriculture, environment and climate change, education, health, transport, private sector development, public administration reform, justice and other sectors.
The issue is completed by a first day cover, and as page composition were used the sheet of 20 stamps and the minisheet of 5 stamps + 1 label.
For further information, please contact the Public Relation Office:
Tel: 021 / 337 24 42