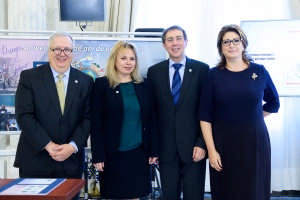 Tuesday, November 1st, 2016, the anniversary event entitled 25 years, the World Bank in Romania was held at the Cotroceni Palace in Union Hall, the high level ceremony being complemented by the launch of the postage stamp issue celebrating a quarter of a century of relations between Romania and the international organization which is the largest provider of financial and technical assistance to various countries globally – the World Bank Group.
Thus, under the suggestive title, "25 years, the World Bank in Romania", the anniversary stamp issue is available to those interested starting today, visually "talking" about the work of this financial institution in our country, in these two and a half decades the uninterrupted presence. On the image of the stamp is allegorical represented the map of Romania in the center of the image, surrounded symbolically by the areas where the World Bank Group has had a significant impact: agriculture, environment and climate change, education, health, transport, private sector development, public administration, justice and other sectors.
At the inauguration of this philatelic project attended H.E. the President of Romania, Mr. Klaus Werner Iohannis, Mr. Prime Minister Dacian Ciolos, Finance Minister Anca Dragu, World Bank Vice President for Europe and Central Asia, Mr. Cyril Muller, Director CIF Europe and Central Asia, Mr. Tomasz Telma, IFC Regional Manager and moderator Ms. Ana Maria Mihaescu, other representatives of the government and World Bank Group etc.
To them were added guests from the diplomatic corps accredited in Bucharest and media representatives.
The philatelic mmoment was presented with a brief speech of the Director General Romfilatelia, Ms Cristina Popescu, who stressed the importance of the moment, expressing gratitude for hosting the event by Cotroceni Palace and appreciation for all the work that the World Bank Group carries in our country "In this time of anniversary, Romfilatelia gladly joins the events celebrating 25 years of partnership between the World Bank and our country, and marks this important moment with its specific activity, namely issuing Romanian postage stamps. Through the philatelic issue 25 years, the World Bank in Romania, which is publicly available from today and has a face value of lei 12, we send a message of recognition of the efforts and work of the World Bank in Romania." At the end of her speech, the Director General of Romfilatelia invited Ms. Anca Dragu, the Finance Minister and the two guests of honor of the World Bank Group – Mr. Vice President Cyril Muller and Mr Director Tomasz Telma, to unveil the philatelic panel dedicated to the project 25 years, the World Bank in Romania and also invited the Minister to stamp the elements of the issue, the two moments symbolizing the official entry into circulation of the anniversary postage stamps issue.