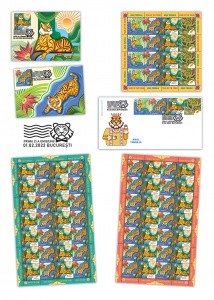 Romfilatelia continues the series of philatelic themes dedicated to the Chinese Zodiac, through the Year of the Tiger postage stamps issue, which will enter into circulation on Tuesday, February 1st, 2022.
The issue of postage stamps consists of two stamps modeled in a mini-sheet of 8 stamps with 8 vignettes, a  "first day" cover and for the maximaphily passion 2 maxicard
The design of the two postage stamps of the issue, both with the face value of Lei 10, illustrate the symbol of the zodiac sign Tiger in two hypostases harmonized with the environment in which the real animal lives (lush vegetation and water).
The Chinese zodiac appeared more than three thousand years ago, earlier than European astrology. The concept of this zodiac has become a serious competitor to the Western zodiac system in determining human character. Unlike astrology, which predicts depending on the position of the sun, stars, and planets, the Chinese calendar based on the moon phases, places the name of an animal in each year of a 12-year cycle. It is accepted the idea that each of the 12 animals of the zodiac has the ability to endow the person born in that year with certain qualities.
The year 2022 is associated with the "Water Tiger", found in the zodiacal calendar every 60 years. In the Chinese tradition, this zodiac sign is presented as a sign of the power, daring and predilection to do special things. According to its predictions for 2022, the winner is the one who acts and risks.
The predictions of the Chinese zodiac present 2022 as a year of massive changes, of new and bold ideas, especially controversial ones.
The main advice for 2022 is "Don't lose your humour!"
The postage stamps issue Year of the Tiger will be available on Tuesday, 1st of February 2022, in Romfilatelia's shops network in Bucharest, Bacau, Brasov, Cluj-Napoca, Iasi and Timisoara and online on https://romfilatelia.ro/store/.
For further information, please contact the Public Relation Office:
Tel: 021 / 336 93 92