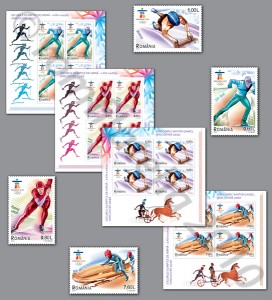 "The most important thing is not to win, but to take part!"
Pierre de Coubertin"The most important thing is not to win, but to take part!"
Pierre de Coubertin
On the occasion of the Vancouver Olympic Winter Games Romfilatelia introduces into circulation the postage stamps issue XXI Olympic Winter Games – Vancouver 2010, this being an opportunity to please not only the philatelists but also the winter sports lovers.
It is the third time when Canada hosts an edition of the Olympic Games. The previous occasions were: the Summer Olympic Games – Montreal 1976 and the Olympic Winter Games – Calgary 1988.
Another première is that the Olympic Winter Games Opening Ceremony will take place indoor, and Vancouver is the largest city hosting Olympic Winter Games. Another peculiarity for the Winter Games is that all stadiums on which the different Games trials will take place are at sea level.
At the beginning of January, the Olympic Flame for the Vancouver 2010 Olympic Winter Games was officially ignited. Traditionally, the Torch ignition ceremony takes place in the Temple of Goddess Hera of the Ancient Olympia. The flame was ignited by parabolic mirrors directly reflecting the sunlight.
For eight days, the Olympic Flame passed through many places in Greece after which it directed to Athens, where its handing ceremony to the organizers from Canada was conducted and then transported over the Atlantic to Canada.
The carrying of the Olympic Torch symbolizes, alongside the energy of sports competitions, the spreading of peace and friendship among different peoples and nations of the world.
The motto under which sports competitions are conducted – "Citius, Altius, Fortius", (Faster,
Higher, Stronger) expresses the essence and the spirit of the Olympic Games.
Romania takes part to the Olympic Games in Vancouver with a team of more than 30 members. On the evening of the 12th of February, on the Olympic Stadium in Vancouver, the flame of the 21st edition of the Winter Olympics will be ignited from the torch started from Greece and it will burn until the 28th of February, the closing day of the 2010 Vancouver Olympic Winter Games.
Harmoniously combining the connection between the graphic art and the beauty of the winter sports, the postage stamps aim to be the artistic reproduction of the essence and spirit of the Olympic Games and, in the same time, a metaphorical reference to the organizing country of the Winter Olympics – Canada.
The postage stamps of this issue illustrate winter sports trials such as speed skating, cross country skiing, skeleton and bobsleigh.
Issue date: 2010-02-12