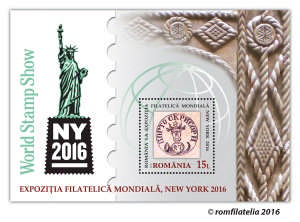 Respecting tradition, the city of New York also hosts this year a world-class event in the domain of philately.
Between May 28 to June 4, 2016 the World Stamp Show opens its doors, organized by the American Philatelic Society (APS), which brings together, under the motto "Take a walk around the world", more than 50 postal administrations worldwide, as well as more than 200 of the most important and known dealers in world philately. They participate along with representatives of more than 50 philatelic clubs and societies worldwide.
It is the 11th World Stamp Show held in NewYork, the first being in 1913.
The stamp show is held under the patronage of the Fédération Internationale de Philatélie (FIP) and Federacion Interamericana de Filatelia (FIAF) and is financially supported by the American Philatelic Society (APS), the United States Postal Service, and the American Stamp Dealers Association (ASDA).
The event aims to promote all the thematic ideas and the originality of the philatelic products worldwide, to stimulate the international philatelic trade.
At the same time, through this exhibition, the educational and cultural value of philately are promoted, along with a passion for collecting.
The American philatelic event exhibits to the visitors the private collection of John Lennon, member of the famous band The Beatles. The collection displays 500 postage stamps, mostly American and from New Zealand. In 2005 they were exhibited at the Smithsonian Museum of American Post, in Washington.
Lennon discovered his passion for philately relatively late, in 1950, when he received the classifier from his cousin, Stanley Parker.
The souvenir sheet of the issue marks Romania's participation in this exhibition and illustrates within the stamp (through the stamp in stamp technique), the image of the 27 parale stamp, of the 1858 issue, Auroch's Head, issued by the Principality of Moldavia. On the illustrated border of the souvenir sheet the logo of the Exhibition, along with national identity elements (the Maramures gate) are presented.