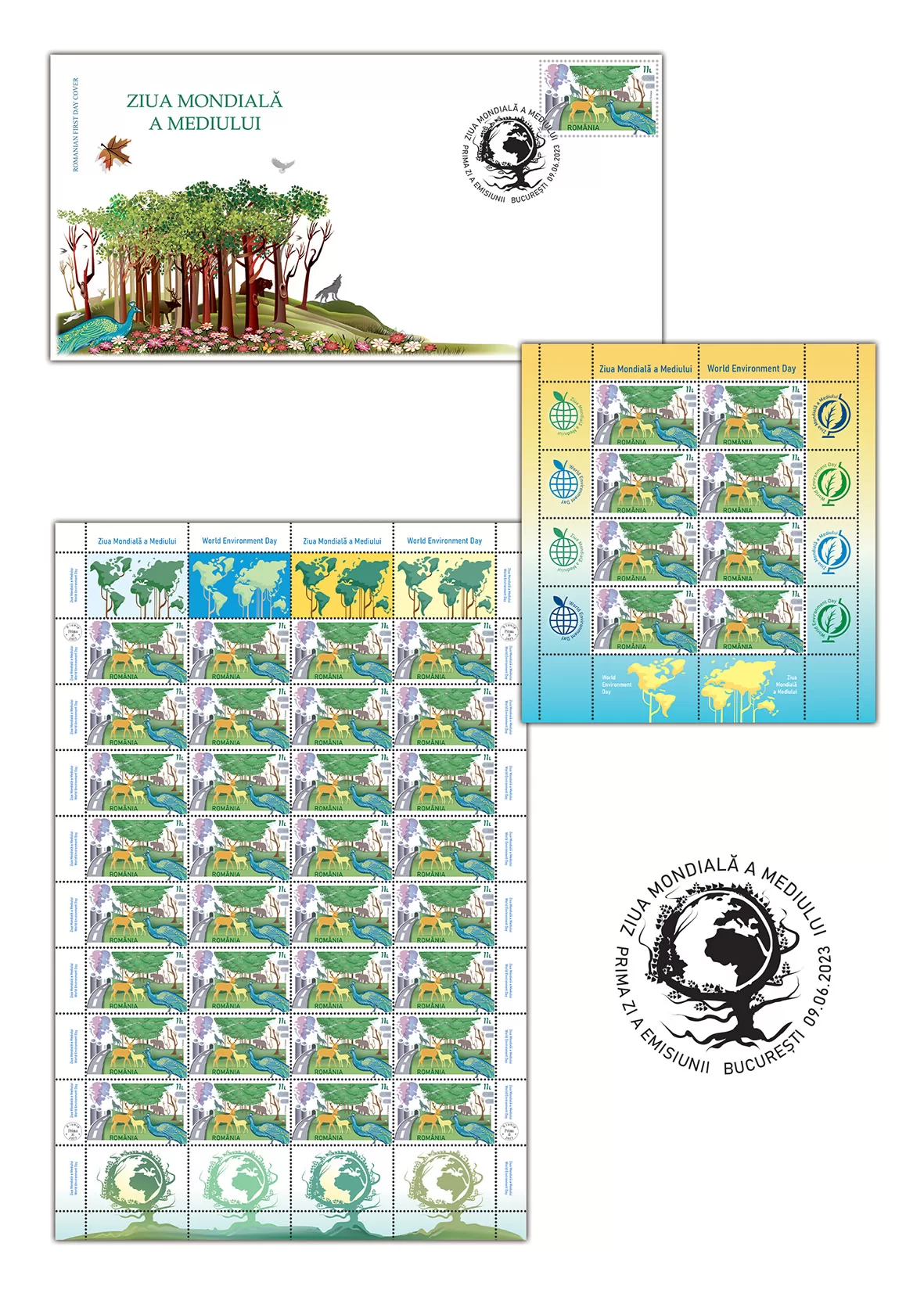 World Environment Day, celebrated every year on the 5th of June, has a well-defined slogan for 2023: "Beat Plastic Pollution".
The Ministry of Environment, Water and Forests is running a nationwide information and education campaign "Recycling in Romania". It aims to make the population more aware of the need to manage and to collect waste separately.
 Romfilatelia joins these goals aimed at promoting responsibility for environmental protection, through the theme of the World Environment Day postage stamps issue, which will be introduced into circulation as from Friday, the 9th of June, this year.
 The images illustrated on the stamp of the issue with the face value of Lei 11 and on the First Day Cover visually depict suggestive graphic elements, which sound an alarm about environmental problems, especially those related to pollution, which affect both human life and the natural habitat, endangering the life of animals and the extinction of many species.
Excessive human actions – depicted on the stamp by symbols such as pollution from burning fossil fuels in thermal power plants and furnaces, highways, tunnels, chainsaws that lay waste to forests – can lead to imbalances in natural ecosystems, with negative and irreversible effects for life on planet Earth.
The graphics of the First Day Cover of the issue also depict the shrinking of natural areas in the symbolic form of an island with a decreasing surface area where animals from different habitats try to find rescue.
Romfilatelia thanks the representatives of the Ministry of Environment, Waters and Forests for their documentary support to the development of this postage stamps issue.
The philatelic issue will be available starting with Friday, June 09th, 2023, in Romfilatelia's shops network in Bucharest, Bacău, Brașov, Cluj-Napoca, Iași and Timișoara and online on https://romfilatelia.ro/store/. 
For further information, please contact the Public Relations Office:
Tel: 021 / 336 93 92