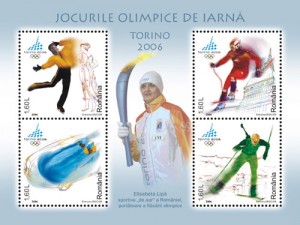 On the occasion of the Winter Olympic Games of Torino, Romfilatelia introduces into the postal network the postage stamps issue Winter Olympic Games – Torino 2006, a reason of satisfaction not only for philatelists, but also for the white sports lovers.
This is the third time that Italy hosts an Olympic Games edition; it has already organized the Winter Olympic Games of 1956 and the Summer Olympic Games of 1960.
Lit in the month of October, in Greece, on Mount Olympus, the Olympic Torch also called "The Flame of Peace", carried on the Hellenic territory by 534 runners, reached Italy on the 7th of December.
For approximately 64 days, around 10 thousand persons carried the torch from Rome to the South of Italy, then returning to the North of the country. The total itinerary is of approximately 11 thousand kilometers.
The first Italian who had the honor of carrying the Olympic Torch on Italian ground was Stefano Baldini, the winner of the marathon contest of the Olympic Games Athens  2004.
Among the carriers of this torch also counts the multiple Olympic champion, Elisabeta Lipã. The famous Romanian sportswoman ran on the Rome streets, with the Olympic Torch in her hand, on the 9th of December, 2005.
The carrying of the Olympic Torch symbolizes, together with the dynamism of the sports contest, the spreading of peace and friendship among the various peoples and nations of the world.
The slogan of the sports contest, "Citius, Altius, Fortius" (Faster, Higher, Stronger), expresses the essence and the spirit of the Olympic Games.
Romania participates in the Olympic Games of Torino with the most numerous sports team in the history of its presence in the winter editions.
In the evening of the 10th of February, on the Olympic stadium of Torino, the flame of the 20th edition of the White Olympiad will be set alight using the torch coming from Greece, which will burn until the 26th of February, i.e. the final day of the Winter Olympic Games of Torino of year 2006.
Harmoniously combining the graphic art and the beauty of the white sports, the postage stamps of this issue are trying to be an artistic transcript of the essence and spirit of the Olympic Games, but, at the same time, a reference (metaphorical, of course) to the organizing country of the White Olympiad – Italy.
The four postage stamps that have the same face value, made in a single block, present winter sports contests where Romanian sportsmen will also compete: bobsleigh, artistic skating, biathlon and downhill skiing.
The background image presents Romania´s "golden sportswoman", Elisabeta Lipã, carrying the Olympic Torch.
Issue date: 2006-02-01