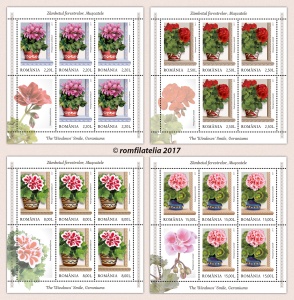 Romfilatelia puts into circulation the postage stamps issue WINDOWS' SMILE, GERANIUMS, delighting again flora lovers and philately aficionados.
Whether in parks, gardens, pots, or flower gardens, regardless of the season, flowers are a joy for the eyes and the soul. Delicate or robust, tall or small, flowers are a symphony of colour and perfume.
Originating in Southern Africa (Cape of Good Hope), where it grows spontaneously, but also in Australia and New Zealand, geranium is a rustic, decorative plant with a long flowering period.
Known since the 16th century, the geranium is one of the most widespread plants in the world. Vividly coloured, with rounded and slightly scented leaves, grown in pots or flowerboxes, adorns the windows and window sills of houses and cheer up gardens and parks.
In 1738, Johannes Burmain named it Pelargonium, a genus to which belong 300 species.
The geranium is a herbaceous, perennial, sub-shrub or shrub plant in the shape of a bush that could reach 40-60 centimetres. Its leaves are more or less fleshy, often with glandular, opposite or alternate bristles. The flowers are grouped in globular inflorescences, rich, with over ten flowers, developed just under the line of the leaves or opposite them.
Though quite resistant to low temperatures, however, geranium still prefers sunny, warm, naturally light places. The plant can flourish indoors in any season if it has minimal conditions of light, water and temperature.
Geranium blossoms can be simple or multi-petal, with an intense white, red, pink or intense coloration and can have peppermint, pine, cinnamon, lemon or orange fragrance.
Depending on their fragrance, during the Victorian period, when flowers were a means of communication, geraniums received various associations and meanings: true friendship, expected meeting, unexpected encounter. The geranium is also related to the legend in which John Dalton realized he did not see the red colour, because in his perception, the blooming flowers were pink and blue, although they were pink and red. In his honour we use the term "daltonism" today.
One of the most spectacular plants is the ivy-leaf geranium or cascading geranium (Pelargonium peltatum), illustrated on the stamp with a face value of Lei 2.20 The plant originates in South Africa and has been known in Europe since the 17th century. Flowing geraniums are considered the ideal flowers for balconies and terraces. Flowers are simple or multi-petal, in shades of red, pink, mauve or white, and unlike other species, they have glossy and round, ivory-like leaves. Geraniums with simple flowers have more flowers than those with multi-petals. They are easy to care for, blooming from spring to late autumn and need plenty of water and light.
The stamps with the face value of Lei 2.50 and Lei 15 illustrate the horse-shoe pelargonium (Pelargonium zonale) in two tinges, red and pink. Spread in both rural and urban areas, it is the most used flower for decorating balconies. The leaves of this geranium are dark green, velvety, horseshoe-shaped and slightly rounded. They frame the differently coloured flowers: red, pink, orange or white. It can winter in dark places, at lower temperatures.
On the stamp with the face value of Lei 8 is a regal pelargonium (Pelargonium grandiflorum). This plant of large flowers, velvety petals, similar to pansies. The flower is of special elegance and has special colours, ranging from white and cream to purple and lilac. The regal pelargonium does not need much water to grow and survive. Also, it does not love moisture and does not bear direct sunlight.
Romfilatelia thanks the "D. Brandza" Botanical Garden of the Bucharest University for the documentary support given to this postage stamp issue and to the photographer Octavian Chende.