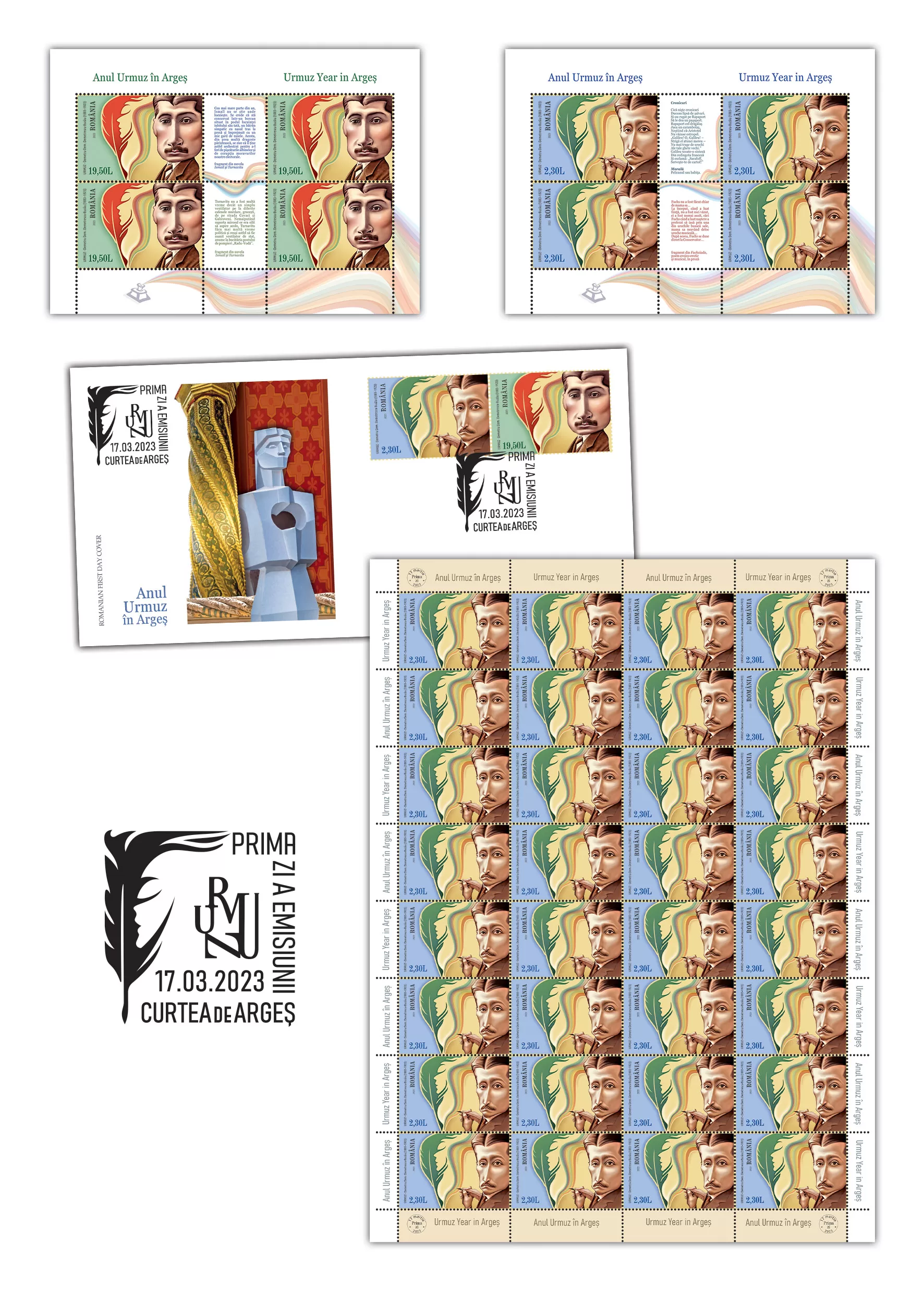 Romfilatelia brings to the attention of collectors, but also the general public, lovers of Romanian culture, a personality renown worldwide, Urmuz from Argeș. Precursor of Surrealism, Demetru Dem. Demetrescu – Buzău, known as Urmuz, is illustrated on 2 postage stamps with the face values of Lei 2.30 and Lei 19.50, which depict the portrait in different versions of the artist, created by the designers Harley Liao from Taiwan and Jorge Luis Cabrera Garcia from Cuba.
The new postage stamps issue, entitled Urmuz Year in Argeș, will enter into circulation on Friday, March 17, this year, having on the postmark of the First Day Cover,        Curtea de Argeș, the town where the artist was born in 1883, even on the day of the launching of the postage stamps issue.
Having a rebellious, bohemian, and bizarre nature, like the literature he wrote, Urmuz left to posterity not only the nine pieces collected by Sașa Pană in a volume, in 1930, entitled Pagini bizare (Bizarre Pages), but also the whole load of his belief that man must dedicate his life to the creation of works of art.
Passionate about music and Jules Verne, he composed a lot and wrote a little. The scores can no longer be found, but his work, with all its bizarreness at first glance, is known throughout the world and continues to inspire and fascinate.
He is considered a forerunner of all the avant-garde movements of the 20th century, and after the World War II, he was promoted and translated in France by Eugen Ionescu himself, who took him as his model.
"Urmuz is a European writer, a great headliner. And then, the last conclusion is precisely that Urmuz, the loneliest of the lonely, is hardly worth talking about", George Pruteanu said.
Romfilatelia thanks Mr. Academician Gheorghe Păun and the representatives of the Argeș County Council for the documentary and photographic support granted to the development of this postage stamps issue.
The philatelic issue will be available starting Friday, March 17th, 2023, in Romfilatelia's shops network in Bucharest, Bacau, Brasov, Cluj-Napoca, Iasi and Timisoara and online on https://romfilatelia.ro/store/. 
For further information, please contact the Public Relation Office:
Tel: 021 / 336 93 92