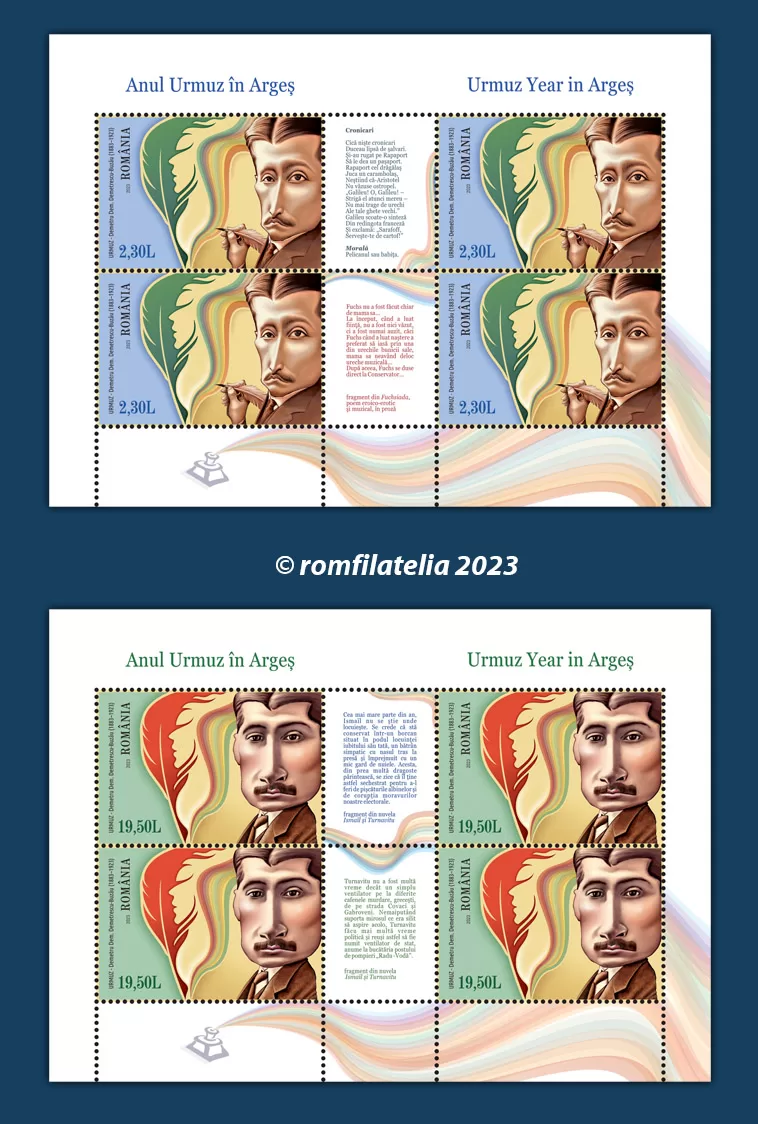 Romfilatelia brings to the attention of collectors, but also the general public, lovers of Romanian culture, a personality renown worldwide, Urmuz from Argeș. Precursor of Surrealism, Demetru Dem. Demetrescu – Buzău, known as Urmuz, is illustrated on 2 postage stamps with the face values of Lei 2.30 and Lei 19.50, which depict the portrait in different versions of the artist, created by the designers Harley Liao from Taiwan) and Jorge Luis Cabrera Garcia from Cuba.
The new postage stamps issue, entitled Urmuz Year in Argeș, will enter into circulation on Friday, March 17, this year, having on the postmark of the First Day Cover, Curtea de Argeș, the town where the artist was born in 1883, even on the day of the launching of the postage stamps issue.
Urmuz was the son of Doctor Dimitrie Ionescu-Buzău and Eliza, daughter of the priest Filip Pașcanu, who served at the "Sfântul Dumitru" Church in Bucharest. His name at birth was the same as his father's, but at school his father changed his patronymic to Dumitrescu. Later, he himself took the name Demetru Dem. Demetrescu-Buzău and signed his name like that all his life. The pen name Urmuz, by which he is known today all over the world, was given to him by Tudor Arghezi in 1922, when he published his first prose, Pâlnia și Stamate [The Funnel and Stamate], in Cugetul românesc.
 He attended the "Gheorghe Lazăr" High School, one year of medical school, graduated in law in 1907, worked as a judge in towns in Argeș, Dâmbovița and Dobrogea, moved to Bucharest, as a clerk at the High Court of Cassation, in 1913. On the night of November 23, 1923, he committed suicide, apparently "for no reason", in a bush on the Road.
He started writing in 1907-1908, and his texts were read in his family and in Bucharest cafés. Bohemian life, strongly attracted by music, he composed a lot, but the scores were lost. As a teenager he painted, he was enchanted by Brâncuși's sculptures.
He wrote little but he has an absolutely impressive posterity. He is considered a forerunner of all the avant-garde movements of the 20th century, and after the World War II, he was promoted and translated in France by Eugen Ionescu himself, who took him as his model. The first monograph on him was by Nicolae Balotă: Urmuz, 1970. In the meantime, dozens of volumes have appeared on Urmuz and his work, exegeses, attempts to imitate him, dramatizations, translations into dozens of languages – and the bibliography continuing to advance in works.
His work was collected in a little book for the first time by Sașa Pană, in 1930, with a complete volume, including translations, critical texts, photographs, under the title Pagini bizare [Bizarre Pages]. Nine texts are attributed to him, and two massive notebooks of his musings were lost; a small number of postcards to the family are kept, a few letters to Tudor Arghezi or to a mysterious Miss Marie.
"Urmuz is a European writer, a great headliner. And then, the last conclusion is precisely that Urmuz, the loneliest of the lonely, is hardly worth talking about", George Pruteanu said.
Romfilatelia thanks Mr. Academician Gheorghe Păun and the representatives of the Argeș County Council for the documentary and photographic support granted to the development of this postage stamps issue.