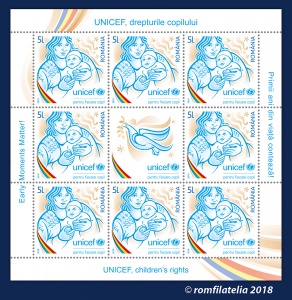 Romfilatelia introduces into circulation the postage stamp issue UNICEF, children's rights, assuming the honourable mission to support the campaign launched at a global level by this prestigious organization, which includes Romania, entitled Early Moments Matter!
UNICEF (United Nations Children's Fund) is present in Romania and 190 other countries and territories to promote the development of children from early childhood through adolescence. In Romania, UNICEF works together with the Government, Parliament, local authorities, civil society, private sector, national and international partners and the mass media to ensure access to early quality education and school to all children, to protect teenagers and monitor children's rights, to provide social protection and mobilise resources for the benefit of children. UNICEF is fully supported from voluntary contributions of private individuals, corporations, foundations and governments.
The Early Moments Matter! campaign draws attention to the first 1,000 days in a child's life, which are underpinning his/her future development and success in school and, later on, in life, since more than 80% of the brain develops by the age of three.
Early childhood researchers and experts used the latest findings of neurology to draw attention to the ingredients of optimal brain development and the ways to ensure them for every child. The primary elements are nutrition, protection and responsive stimulation. With every hug and kiss, with every nutritious meal and each game you play together, you are contributing to your child's development.
Five elements are required for healthy development in early childhood:
Healthcare: immunisation, disease prevention and timely and adequate treatment, drinking water, cleanliness and hygiene.
Adequate nutrition: a diet that meets nutrition needs for optimal growth and development, including early initiation and continuation of exclusive breastfeeding for at least six months, food diversity and frequent feeding. 
Protection: against violence, abuse, neglect, environmental hazards, including air pollution and prolonged exposure to other adversities.
Care: permanent interaction with a parent or caregiver, which may include feeding, playing, singing or dialoguing.
Early learning: access to early education services, such as nursery and other early learning opportunities that entail the use of toys, books and interactions with adults and peers.
To promote the importance of healthy development of children in their first three years of life, UNICEF is implementing a series of annual campaigns that tackle topics such as: immunisation, early identification of disabilities, care and early learning.
Every child has the right to health. Vaccines are the safest way to protect children, preventing potentially lethal diseases. Each year, vaccines save up to three million lives worldwide.
In Romania, vaccines are available free of charge, from the General Practitioner. He/she can provide the parents with all the necessary information on vaccination, including the schedule, benefits and potential side effects. To get free vaccination, all children must be enrolled with a family doctor.
Every child has the right to education. Numerous international studies show that early education pays off on the long term, especially for the most disadvantaged children. It allows them to acquire the skills they need for a good start in life.
Every child has the right to love and appreciation. Parents want the best for their child, but being a parent is not always easy, particularly in the context whereby each age comes with its own challenges. It is important that parents know how to manage the relationship with their children at various ages, and meet the challenges using an appreciative approach.
Our experience drawn from various models shows that parental education contributes not only to improving the relationship and communication between children and parents, but also to increasing school participation, in particular for the most vulnerable children.
Early moments matter, with 1,000 days generating benefits for Romania's next 100 years.