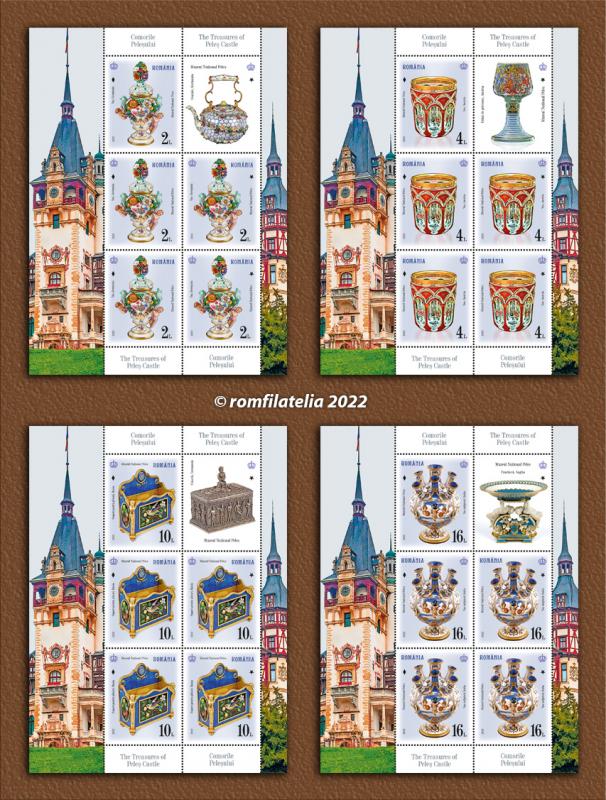 Romfilatelia dedicates a new philatelic project to the rich heritage of the Peleș National Museum, introducing into circulation, on Friday, June 17th, this year, the postage stamps issue The Treasures of Peleș Castle.
The four stamps, the perforated souvenir sheet and the special philatelic folder, illustrate representative pieces, of great aesthetic value, from the collections of the Peleș National Museum, highlighting by richness, beauty and refinement the collection of silverwork, of ceramics and glassware, closely linked to Peleș Castle and its founder, King Carol I.
On the stamp with the face value of LEI 2, is reproduced a hard paste porcelain Vessel, of German origin, molded manually and in a pattern, with applied decoration. Hand-painted under glaze, in polychrome and partially gilded, the vessel is a creation from the 1870s to 1900s of the famous Meissen workshop in Germany.
On the stamp with the face value of LEI 4, is illustrated a Vessel of Austrian origin, created in the Lobmeyr workshop in Vienna at the end of the 19th century. The crystal vase, blown in a pattern and partially gilded, is painted with enamel representing polychrome floral-vegetable motifs in architectural frames.
On the stamp with the face value of LEI 10 is depicted the envelope holder, created in the Nicholls & Plincke workshop in Russia at the end of the 19th century. It was made of gilded bronze and lapis lazuli plates, being part of a 12-piece desk set. On the high side, in front, there is the monogram of the Duchess Maria Alexandrovna, the mother of Queen Marie of Romania.
On the stamp with the face value of LEI 16 is illustrated a Tulip Vessel, made in the Ginori, Doccia workshop, in Florence, Italy, between 1870 and 1880. The vessel was hand-painted under glaze with a raffaellesche and a grotesche motifs, chromatically in shades of blue, yellow and ocher.
On the stamp with the face value of LEI 32 of the perforated souvenir sheet of the issue is illustrated an Amphora created between 1870 and 1890, made of wheel-molded and pattern-cut tiles, with applied decoration and clay, hand-painted under glaze, artwork of the Florentine workshop Ginori, Doccia, from Italy. The furniture on the souvenir sheet illustrates the chest of drawers in the Princes' Apartment, on the first floor of Peleș Castle, made by the Austrian company Portois & Fix, in Vienna, at the end of the 19th century.
The Swan figurine, illustrated on one of the Firts Day Covers of the issue, was made in a German workshop at the end of the 19th century. On the second First Day Cover of the issue is depicted the image of a glass Vessel, a French creation from the beginning of the 20th century.
Romfilatelia thanks the Manager Narcis-Dorin Ion and the documentation team of the Peleș National Museum for the support provided for the development of this postage stamps issue.