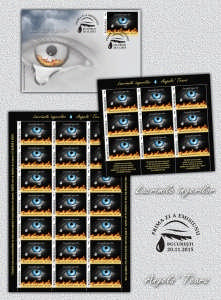 The date of October 30th, 2015 was a gloomy day for our country. The sadness and the pain caused by the tragedy from the Colectiv club have exceeded the borders of our capital city, and from that fatidical moment the suffering and sorrow have settled among our daily feelings.
We have witnessed an impressive national mobilization, where our fellow men and institutions have shown that, above all, we have not forgotten to be HUMANS.
We have all received great life lessons – of compassion, solidarity, unity, faith, hope – and for sure the list can go on.
Facing a tragedy which has shaken an entire nation, Romfilatelia proves its solidary with the suffering of our country and wishes to contribute, through its specific activity, to the awareness and encouragement of the most sincere feelings and acts of love towards our fellow men who are finding themselves in great need.
Therefore, on Friday, November 20th, 2015, Romfilatelia will introduce into circulation the postage stamp issue Angels' tears, a pious gesture of sympathy and homage brought to the victims of the tragic event that took place in the Colectiv club.
The stamp fulfils its purpose to promote and develop humanitarian values, such as solidarity and mutual assistance, among people.
Join our humanitarian campaign which will take place between November 20 – December 31, 2015, and buy the philatelic issue Angels' tears. The funds raised from the sale of the philatelic run printing will be transferred entirely to the Floreasca Clinical Emergency Hospital, their final purpose being to support the medical recovery process of the victims.
Together we dry the tears of angels and restore their wings!
For further information, please contact the Public Relation Office:
Tel: 021 / 337 24 42