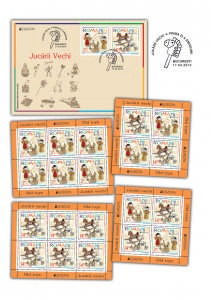 "Childhood is the heart of all ages." (Lucian Blaga)
Romfilatelia continues the annual series of Europa postage stamp issues, the 2015 topic selected by the
PostEurop body of the Universal Postal Union being old toys. Respecting tradition, each country has the opportunity to interpret the chosen theme in its unique style. Thus, Romfilatelia dedicates to vintage toys a special philatelic project, entitled Europa 2015, Old Toys.
Toys have their well-defined role as a source of entertainment, as well as education. Generally, they are objects designed to render scale miniatures of reality and give children a representation of the adult world. Having a history as old as the one of humanity, toys stimulate the child's creativity, intelligence and perspicacity, often representing a bridge for the relationships between children, and even moral support for them.
With numerous and various forms and concepts, toys are spread throughout the world, the craft art of achieving them being also found in Romania, where toys bear imprinted the specific elements of each region of our country.
The two stamps of the issue illustrate old, traditional, Romanian toys, thus inviting to a journey through time, into the world of childhood. These belong to the "Toy Museum" Association, which was created by a group of enthusiastic toy lovers and keepers of their own toys.
The stamp with the face value of lei 2.10 illustrates three traditional toys painted on wood. They were commonly found in traditional fairs organized during celebrations in towns and villages. They are based on much older models, versions of these reaching close to our time.
The stamp with the face value of lei 14.50 takes us back in time, reminding us of the age of innocence, of the wooden horse and tricycle, the silent witnesses of the most audacious adventures of childhood. The wooden horse could be found in various forms in almost all the country's regions, balancing on this toy being one of the priceless sensations of a child, 100-150 years ago. The tricycle, unlike the horse, offered a real mobility to the child, who learned to pedal and drive his small vehicle. The tricycle pictured on the stamp dates from the '50s and '60s and is based on an inter-war model.
Technically, the issue is completed by a first day cover, and as page composition were used the sheet of 28 stamps, the minisheet of 6 stamps and the block of 4 stamps (2 models).
Starting with Friday, April 17th, 2015, the postage stamp issue Europa 2015, Old Toys will be available in all Romfilatelia shops in Bucharest and countrywide.
Romfilatelia thanks the "Toy Museum" Association from Bucharest for the documentary support granted in the achievement of this postage stamp issue.
For further information, please contact the Public Relation Office:
Tel: 021 / 337 24 42