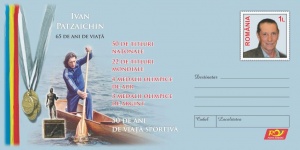 The official visit that His Royal Highness, Charles, the Prince of Wales, held on March 29 – 31, 2017 in Romania, was a memorable moment for the Romanian stamp.
It is a well-known fact that Prince Charles is attached to the beauty of our country. His Royal Highness appreciates the most our beautiful nature and unique places of our country where tradition and authentic Romanian values ​​have remained untouched. Thursday, March 30, at the Village Museum in Bucharest, had all the features of a special event.Welcomed by Associate Professor Doctor, Mrs. Paula Popoiu, Director of the National Village Museum "Dimitrie Gusti" and Irina Cajal, State Undersecretary within the Ministry of Culture, HRH the Prince of Wales stopped at the church in Dragomiresti. He showed interest in seeing how traditional painted eggs are made by craftsmen from Bukovina. He also admired painting religious icons on wood and stone, and at the Chiojda House in Buzau, he was impressed by the woven fabrics on display. On this occasion, the great Olympic champion Ivan Patzaichin offered His Royal Highness a paddle, together with a collection of stamps selected from philatelic issue "Gold Sportsmen", together with the postal stationery dedicated to the beauty of the Danube Delta and to the promotion the Rowmania project.Romfilatelia is proud that it was, once again through Romanian stamps, a witness to such an important event, carrying out the message of the spiritual values ​​of our people.  This important meeting is considered to promote unique cultural values, faith, traditions and the customs of our country.
We are grateful to His Royal Highness for the fact that every time he speaks about Romania and its people, he always expresses his respect and admiration for the Romanian spiritual and cultural heritage.