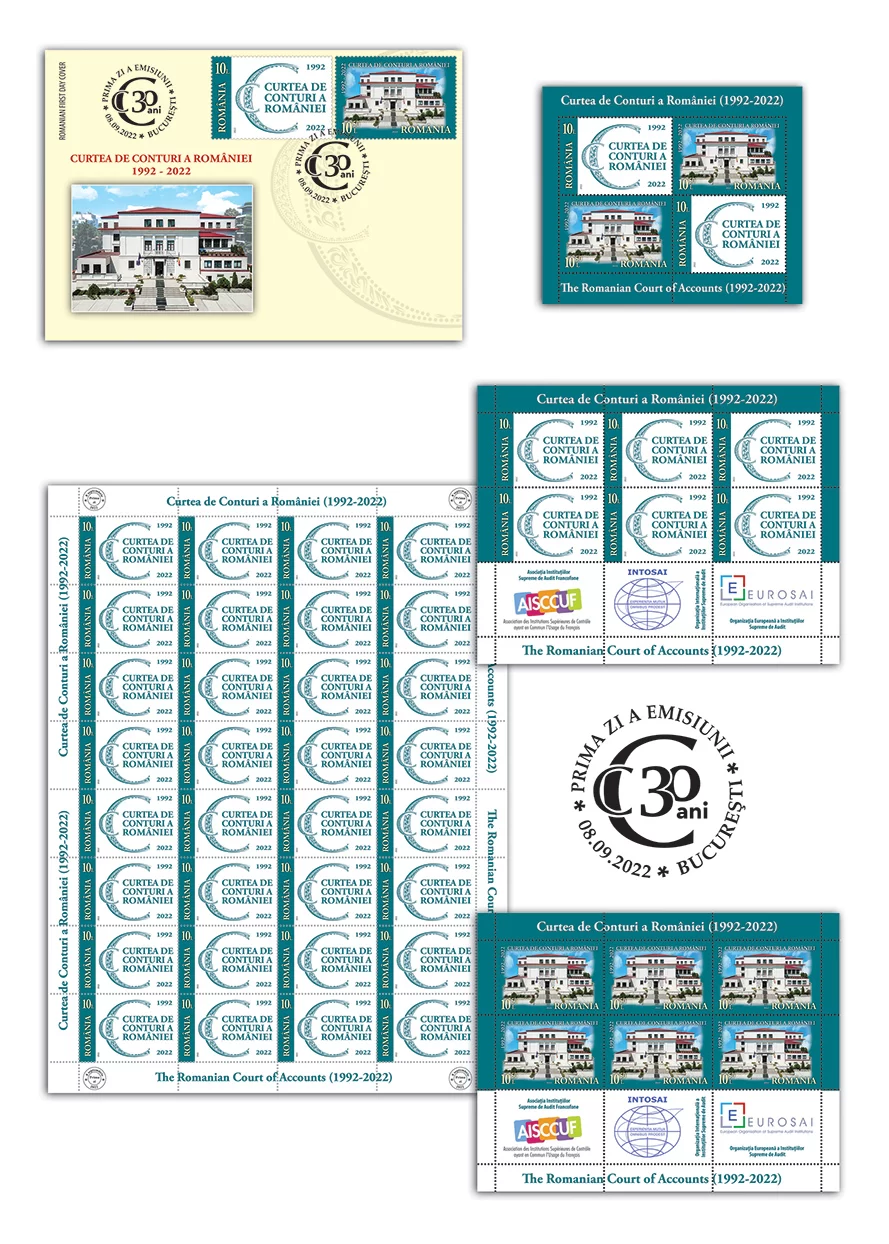 On the occasion of the thirtieth anniversary of the re-establishment of the supreme audit institution, fundamental to any solid democratic construction, Romfilatelia introduces into circulation on Thursday, September 8, this year, the postage stamps issue The Romanian Court of Accounts (1992 -2022).  
Within the issue, compound of two postage stamps, with the face values of Lei 10 and Lei 10,50, two minisheets, a perforated souvenir block of four stamps and a First Day Cover, are depicted identity elements, namely the institution's official and anniversary logos and the logos presenting its membership to international organizations and the building where the institution has the headquarters.
Established in 1864 by the ruler Alexandru Ioan Cuza, the High Court of Accounts had a significant role in the development of the modern Romanian state.
An institution designed to oversee the administration of the country's financial resources could not be absent from the emerging modern state.
The Romanian Constitution of 1991 reinstated the Court of Accounts among the essential institutions of the democratic state after a period of dissolution. The Law on the organization and operation of the Court of Accounts was adopted and then promulgated by the President of Romania, on September 8th, 1992.
Currently, the Court of Accounts is going through an extensive modernization process that involves institutional transformation by modifying the specific normative framework and defining strategic objectives that will guide its activity in the years to come.
Romfilatelia thanks the representatives of the Romanian Court of Accounts for the documentary support granted to the development of this postage stamps issue. 
The philatelic issue will be available starting Thursday, 8th of September, in Romfilatelia's shops network in Bucharest, Bacau, Brasov, Cluj-Napoca, Iasi and Timisoara and online on https://romfilatelia.ro/store/.
For further information, please contact the Public Relation Office:
Tel: 021 / 336 93 92