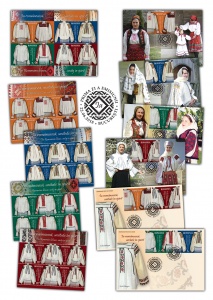 In the Centenary year of the 1918 Great Union, Romfilatelia introduces into circulation the postage stamp issue The Romanian Blouse, unity in spirit, dedicated to the most important piece of the traditional Romanian female costume, anticipating the day of June 24th, declared in 2013 as The Universal Day of the Romanian Blouse.
The new issue will be available on Friday, June 22th, 2018, in Romfilatelia' own shops network in Bucharest, Bacau, Brașov, Cluj-Napoca, Iași and Timișoara and online on https://romfilatelia.ro/store/.
The stamps of the issue illustrate blouses from the regions of Romania, as follows:
The folk blouses that is specific to Crisana (Bihor), respectively Maramures (Oas) regions are represented on the stamp with the face value of Lei 3.
Two other traditional pieces belonging to the regions of Bucovina (Suceava) and Moldova (Vrancea) are illustrated on the stamp with the face value of Lei 5.
The blouses specific to Banat (Lugoj) and Transylvania (Padureni, Hunedoara County) regions are represented on the stamp with the face value of Lei 7.
The fourth stamp of the issue, with the face value of Lei 11.50, illustrates the blouses specific to Oltenia (Mehedinti) and Muntenia (Ramnicu Sarat) regions.
On the First Day Cover of the postage stamps issue is represented the blouse from Dobrogea region.
Originated in the ancestral homeland of Geto-Dacian civilization, the Romanian costume has continued its course until today, presenting two essential characteristics: its unity and its continuity. After the Great Union of 1918, the blouse, basic element of the traditional female costume, was promoted as a unitary symbol of the Romanians.
The authentic Romanian blouse was made of sufficiently soft linen, the so-called "homemade cloth" or "whitened cloth", made from flax, hemp or wool, woven with the help of the two-wire weaving loom. Later, the blouse or the embroidered shirt was also made from cotton spunned by distaff. In addition to color and fabric, the features of the blouse are also given by stitches, incret (the ornamentation on the sleeves of the Romanian blouses, made between the "altita" and "rauri"), altita (the embroidery at the top of the sleeve), rauri (vertical embroidery which runs like a river across the chest of the Romanian blouse) and seams.
The postage stamp issue is completed by a set of two First Day Covers, as page composition there were used a sheet of 20 stamps, a minisheet of 4 stamps with illustrated border and a block of 4 stamps with illustrated border.
For further information, please contact the Public Relation Office:
Tel: 021 / 337 24 42
roxana.herascu@romfilatelia.ro