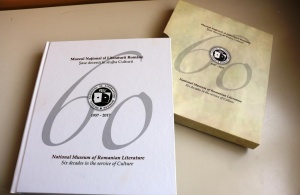 On Thursday, June 15th , 2017, Romfilatelia in partnership with the Bucharest Museum was alongside the National Museum of Romanian Literary to mark the 60th anniversary of its activity, from its establishment until today, launching the philatelic album dedicated to this anniversary, "The National Museum of Romanian Literature, Six Decades in the Service of Culture", also presenting the postage stamps issue: "60 years, the National Museum of Romanian Literature".
Same time with the philatelic event was launched the work "The Fundamental Works" – two Eminescu's volumes – "Poems I (1866-1877)" and "Poems II (1878 – 1883)", in a critical edition of the literary historian Dumitru Murarusu, objectively presented by Acad. Eugen Simion.
This elite meeting was attended, as speakers, by Adrian Majuru, the Manager of the Bucharest's Museum, Ioan Cristescu, General Manager of the National Museum of Romanian Literature, Cristina Popescu, General Manager Romfilatelia, Tomnita Michaela Florescu, vice-mayor and Acad. Eugen Simion.
Among the list of the participants were several intellectuals, his Highness Ioan Robu, Archbishop and Roman-Catholic Metropolitan Priest of Bucharest, Acad. Augustin Buzura, Lucian Chisu, the writers Horia Garbea, Mihai Ispirescu, Dan Mircea Cipariu, the director Radu Baiesu, George Mihaita, Bogdan Stanoevici and many other distinguished guest and media representatives.
The host of the event, Mr. Ioan Cristescu, recalled the double significance for the Romanian culture of June 15th , both from the anniversary perspective of the museum and also the evocation Mihai Eminescu's name.
The anniversary moment was brought back to attention by Mr. Adrian Majuru, who emphasized the importance of this philatelic project, "is the first time that a museum in Bucharest invests and values this opportunity for presenting information. Bucharest's museums are genuine factories, open to young people, giving them opportunities to see in the future. "
The General Manager Romfilatelia thanked for the cooperation in the development of this project, reminding that it was a collective effort, completed by emotion. "Romanian culture is enriched today with an issue of postal stamps as well as with an exceptional philatelic product."
 The vice-mayor, Mrs. Tomnita Mihaela Florescu, as architect, admired the modern environment of the museum and passed the message of the General Mayor: "Thank you for being close to us, thank you for everything you do and we will continue to be your best partner."
Acad. Eugen Simion congratulated the authors of this collection philatelic project as well as the effort to promote culture by this innovative and effective way of communication.
As usual, Romfilatelia's mission to bring the culture, institutions and culture people to the forefront was met and we are honored to promote, promote and develop national brands through philately.