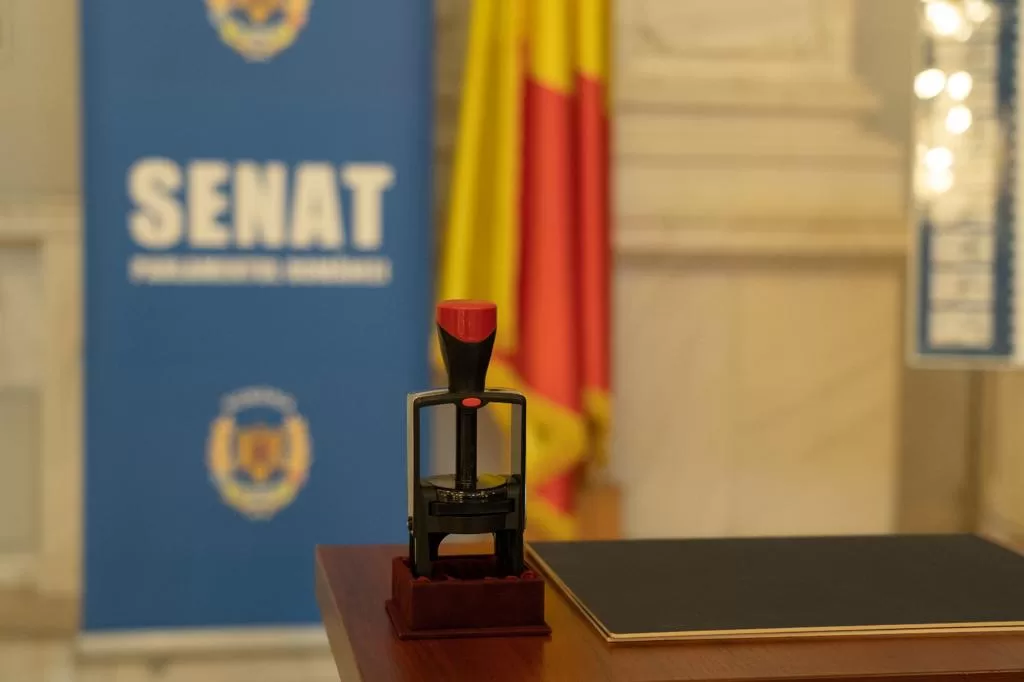 Bucharest, April 11th, 2023
Romfilatelia was invited in the foyer of the Plenary Hall of the Romanian Senate to launch the "Romanian Constitution. The loyal cooperation of the powers in the state".
The event was attended by representatives of the most important state authorities: Mrs. Alina Gorghiu, President of the Romanian Senate, Mrs. Corina-Alina Corbu, President of the High Court of Cassation and Justice, Mr. Lucian Romașcanu, Minister of Culture, Judge Daniel Grădinaru, President of the Superior Council of Magistracy, Mr. Daniel-Constantin Horodniceanu, Vice-President of the Superior Council of Magistracy, as well as Mr. Traian Briciu, President of the National Association of Romanian Bars of Romania.
The presentation of the postage stamps issue was made by the initiator of the project and moderator of the event, Mr. Robert-Marius Cazanciuc, Vice-President of the Senate, who highlighted the permanent presence of Romfilatelia, through the postage stamp, in the fulfilment of the act of culture, as well as the previous collaborations in the unitary concept of promoting the Romanian Constitution, the fundamental Law of the State.
Romfilatelia illustrated the symbolism of the Three Powers in the State, the solid foundation of democracy through the legislative power, represented by the Senate and the Chamber of Deputies, the judicial power, acting through the High Court of Cassation and Justice and the courts, and the executive power, an attribute of the Romanian Government.
At the end of the speech, the CEO of Romfilatelia invited the representatives of the mentioned authorities to stamp the First Day Cover of the issue, thus marking the official moment of the introduction into circulation of the postage stamps issue and to unveil and sign the anniversary philatelic panel.
#PresidentialAdministration #ConstitutionofRomania #SenateofRomania #ChamberofDeputies #ICCJ #GovernmentofRomania #MinistryofCulture #CSM #UNBR #SRR #Rador #Agerpres