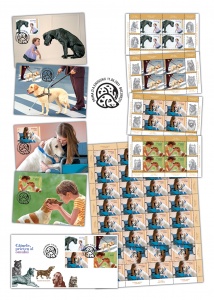 The most beautiful stories that we meet in our childhood are those that tell us about the friendship between man and animal. From here come the most valuable lessons about loyalty, trust, sacrifice and unconditional love.
No connection between man and another species has been so much honoured, studied, commented on as that between man and dog. The first domesticated animal, the dog linked its fate to that of man to such an extent that its behaviour and even its physiology have changed significantly, due to its long evolution with the human species.
To celebrate this connection, Romfilatelia introduces into circulation, on Friday, June 11, 2021, the issue of postage stamps The Dog, man's friend, consisting of four stamps and a "first day" cover, and completed with four maxicards. The four stamps of the series, with face values of Lei 2, Lei 2.20, Lei 5.50 and Lei 19.50, present aspects of the interaction between man and dog, the latter appearing in different poses: practical human help (as a companion for the blind or people with motor disabilities), but also a simple affectionate friend of children.
The domestication of the dog happened at least 15,000 years ago, before the advent of agriculture, when people still lived as hunter-gatherers. Dogs are descended from wolves, but not from current wolves, as is often believed. The history of the dog's evolution is long and complicated enough to require laborious research, including molecular and genetic analysis, to elucidate some aspects. A widely accepted theory holds that the dog's closest relative is the gray wolf that lives in Eurasia and North America (wolf species that exists in our country), the two species descending from a common ancestor. The dog (Canis familiaris) and the gray wolf (Canis lupus) diverged from this ancestor approximately 30.000 years ago, starting on different evolutionary paths, and continue to evolve divergently even today.
The relationship between man and dog is complex and takes on many aspects. Dogs can be trained to perform a variety of roles: accompanying and helping people with disabilities, rescuing victims of natural disasters, detecting explosives, drugs and other dangerous substances, tracking and catching criminals, guarding and gathering herds of animals, helping people for hunting and fishing, traction of vehicles, etc. In its long evolution with humans, the dog has acquired a particular sensitivity to their emotions and behaviour, which makes possible effective communication between the two species, and this communication, in turn, facilitates training and explains the sometimes amazing performance of dogs in these activities.
But beyond these practical aspects, the dog remains, first and foremost, man's friend, and his attachment to man remains the purest expression of fidelity, affection and devotion.
The postage stamps issue "The Dog, man's friend" will be available on Friday, June 11, 2021, in Romfilatelia's shops network in Bucharest, Bacau, Brasov, Cluj-Napoca, Iasi and Timisoara and online on https://romfilatelia.ro/store/.
For further information, please contact the Public Relations Office:
Tel: 021 / 336 93 92