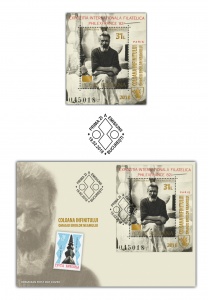 "Go! Embrace The Infinity Column with the palms
of the opened hands. Then, lifting your eyes,
 look at it and you will thus know,
 indeed, the self of the sky."  
Constantin Brancusi
(1876-1957)
 On the occasion of the Centenary of the Great Union, as a sign of respect and gratitude for the sacrifice of the World War I soldiers, Romfilatelia introduces in circulation the postage stamp issue The Infinity Column, tribute to Romanian heroes. The new issue will be available on Monday, February 19th 2018, the date of birth of the great artist Constantin Brâncuși, in Romfilatelia' own shops network in Bucharest, Bacau, Brașov, Cluj-Napoca, Iași and Timișoara and online on https://romfilatelia.ro/store/. 
The perforated souvenir sheet, with the face value of Lei 31, is an overprint of the postage stamp issue The International Philatelic Exhibition "Philexfrance'82", that illustrates Constantin Brancusi in his Paris workroom, next to a version of his work, The Infinity Column.
Constantin Brancusi, the titan of the world art, gave Romania, out of passion for art and infinite love for his country, a unique legacy in the world – The Column of Endless Gratitude, known as The Infinity Column.
Throughout his life, the genius Brancusi experimented with all kinds of materials to finalize the shape and the dimensions of this artwork, which figures among his emblematic sculptures.
At the initiative of the National League of the Romanian Women from Gorj, between 1937 and 1938, Brancusi created The Column of Infinite Gratitude, in the memory of the Romanian soldiers fallen on duty during the World War I, in the battles of Jiu Valley.
The remarkable work, later renamed The Infinity Column, is a stylization of the funerary columns specific to the South of Romania. The sculpture has three essential elements – the buried foundation, the core or the central pillar of resistance, and the column itself.
The column is part of the Calea Eroilor (Heroes'Path) Monumental Assembly from Targu-Jiu, inaugurated 80 years ago, on October 27, 1938. The ensemble stretches over 1.5 km, on an East-West axis, and is composed of The Table of Silence, The Alley of Chairs, The Gate of Kiss and The Infinity Column, running on its way into the Saints Peter and Paul Church.
In April 2007, in Targu-Jiu was unveiled the plaque which attests the inclusion of the Monumental Assembly Calea Eroilor into the European cultural patrimony.
The Infinity Column passes on over centuries the legacy of the sacrifice of our national heroes.
The postage stamp issue is completed by a First Day Cover, as page composition there was used the perforated souvenir sheet.
For further information, please contact the Public Relation Office:
Tel: 021 / 337 24 42