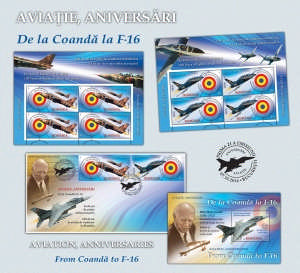 One of man's most beautiful dreams has always been to fly. With a rich past in aeronautics, Romanians are renowned as being among the world's pioneers in this field, as they have contributed greatly to the development of flight by means heavier than air.
As 2016 is marked by several important anniversaries in aviation, Romfilatelia dedicates to all those who love this field and are passionate about flying a new stamp project symbolically called Aviation, Anniversaries. From Coanda to F-16. Consisting of two stamps and a perforated souvenir sheet, the issue celebrates flight and the respect for the Romanian Army, being available starting with Friday, October 7th, 2016, in Romfilatelia's shops from Bucharest, Bacau, Brasov, Cluj-Napoca, Iasi and Timisoara.
65 years of jet aviation, 100 years of Romanian fighter squadron and 130 years since the birth of Henri Coanda are the three anniversaries that the Romanian stamp registers in the national philatelic patrimony by the project Aviation, Anniversaries. From Coanda to F-16.

The three values of the issue graphically illustrate aviation's symbols and insignias, images of planes belonging to the Romanian military endowment, as well as the portrait of the great Romanian scientist who revolutionised flight, the engineer Henri Coanda.
The stamp with the face value of lei 4.50 depicts the IAR-93, a twin-engine subsonic jet, designed for fighter-bomber missions, created in cooperation with specialists from former Yugoslavia. The prototype first flew on October 31st, 1974, having Lieutenant Colonel Gheorghe Stanica as pilot.
The stamp with the face value of lei 15 illustrates IAR-99, a single-engine subsonic jet, for school and advanced training. It was entirely developed in Romania. The prototype made its first flight on December 21st, 1985, under the pilot Lieutenant Colonel Stefanel Vagner. In 1996 the process of modernizing it to be compatible with MiG-21 "LanceR" was started.
A special element is the interrupted circular perforation, found within the two postage stamps.
The stamp of the perforated souvernir sheet, with the face value of lei 16, makes a metaphoric link from Henri Coanda, the father of jet aircraft and discoverer of the effect which bears his name, from whose birth were celebrated 130 years in 2016, to the multi-purpose supersonic aircraft F-16, equipped with highly advanced weapons, designed to combat airborne targets, bring support for ground troops and aerial reconnaissance.
The issue is completed by a first day cover and as a page composition were used the sheet of
28 stamps, the minisheet of 4 stamps with illustrated border and the perforated souvenir sheet.
For further information, please contact the Public Relation Office:
Tel: 021 / 337 24 42