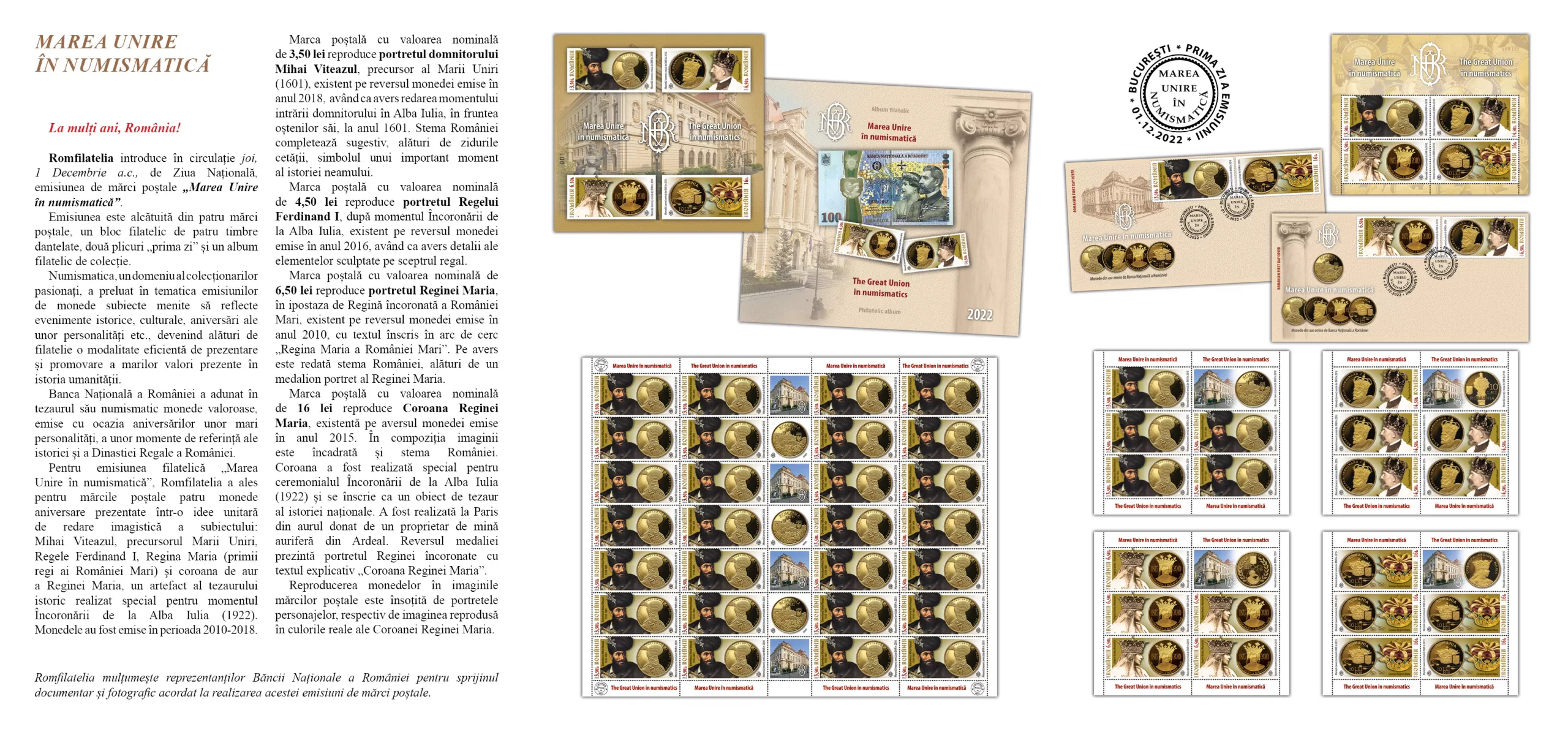 Happy birthday, my beautiful country! Happy Birthday, Romania! Romfilatelia wishes you to be forever glorious, united and independent! May you always be within your complete boundaries, the desire that Mihai the Brave desired, fulfilled over the years by your brave army led by the Loyal One, King Ferdinand with Queen Maria always by his side!
On the occasion of Romania's national day, Romphilatelia is launching on Thursday, December 1, 2022, the philatelic issue Great Union in numismatics. To mark this event of crucial importance in the life of the country, four coins were chosen from the treasury of the National Bank of Romania that tell the story of the nation's unification, from 1601 to 1918.
The anniversary coins presented in a unified idea of imagistic rendering of the subject: Michael the Brave, precursor of the Great Union, King Ferdinand I, Queen Marie (the first Kings of Greater Romania) and Queen Marie's golden crown, an artifact of the historical treasure made especially for the moment of the Coronation in Alba Iulia (1922). The coins were issued between 2010-2018.
The reproduction of the coins in the images of the postage stamps is accompanied by the portraits of the characters, respectively the image reproduced in the real colors of Queen Mary's Crown. For lovers of philately, but also for all those who want to purchase the "first day" envelope, our store in Câmpineanu street will be open on Thursday, December 1, between 9 am and 3 pm.
Romfilatelia thanks the representatives of the National Bank of Romania for the documentary and photographic support provided to the development of this postage stamps issue.
The philatelic issue will be available starting Thursday, 01st of December, in Romfilatelia's shops network in Bucharest, Bacau, Brasov, Cluj-Napoca, Iasi and Timisoara and online on https://romfilatelia.ro/store/.
For further information, please contact the Public Relation Office:
Tel: 021 / 336 93 92