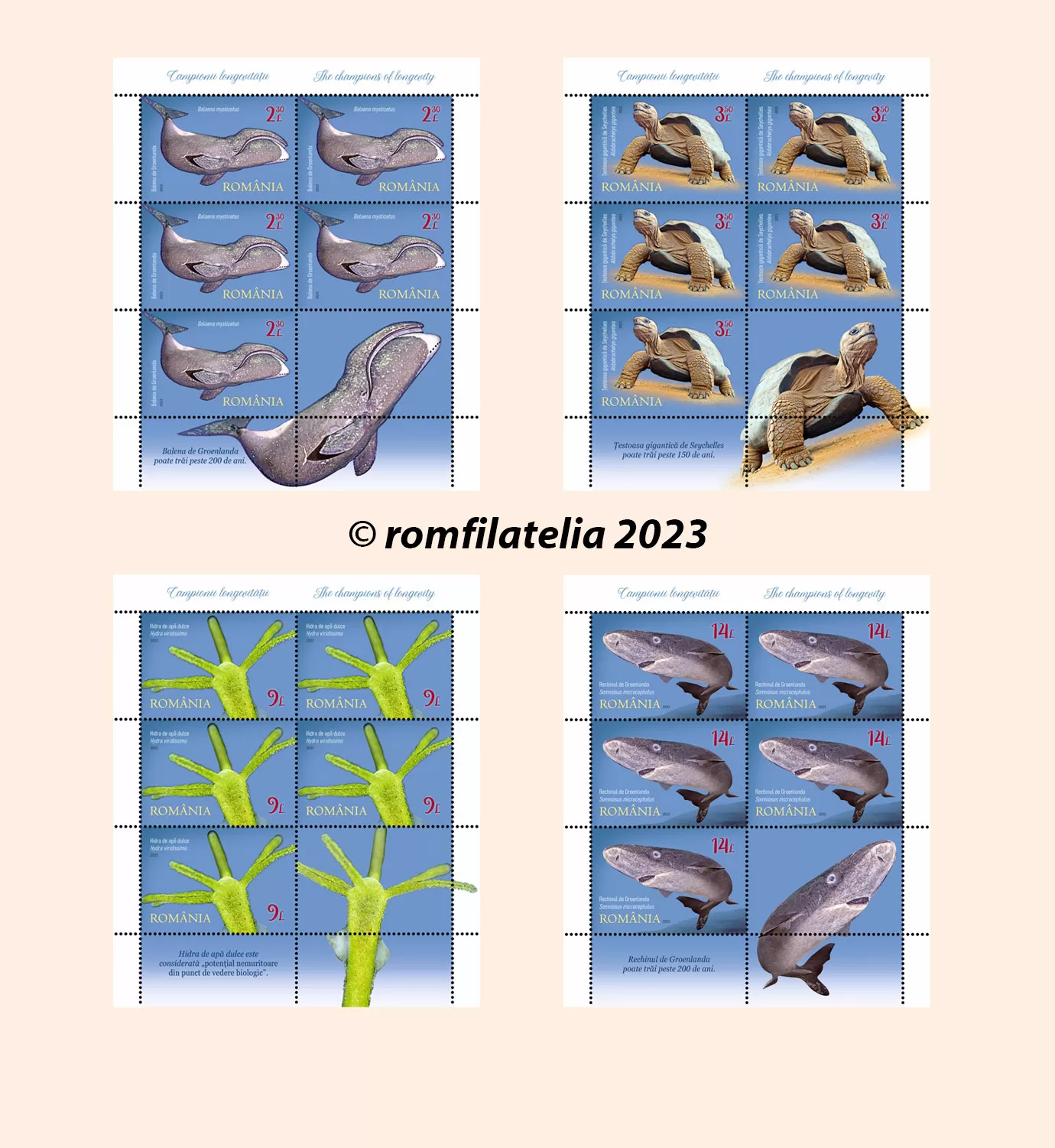 Animals, unlike humans, can survive for hundreds of years. The secret of their longevity is not known, but what stands out clearly is the fact that the longest-lived species live in the oceans, sometimes reaching ages of thousands of years.
Romfilatelia approaches this topic as première, introducing into circulation on Friday, November 3rd, this year, the issue of postage stamps The champions of longevity, consisting of 4 stamps, 1 First Day Cover and a special philatelic folder.
The stamps of the issue reproduce the images of the Greenland whale (face value of Lei 2.30), the Seychelles turtle (face value of Lei 3.50), the freshwater hydra (face value of lei 9) and the Greenland shark (face value of Lei 14). Their longevity is recorded between 200 and 400 years, except for the freshwater hydra, which is considered potentially immortal.
The First Day Cover depicts the freshwater pearl mussel (Margaritifera margaritifera), with a long lifespan, the record being 280 years.
Greenland whale (Balaena mysticetus) belongs to the suborder of baleen whales, known for their filter-feeding method.
The bowhead whale reaches up to 18m in length and 100 t in weight.
The longevity of the species is remarkable, with some individuals estimated to be over 200 years old.
Seychelles giant tortoise (Aldabrachelys gigantea) lives in the Seychelles islands off the east coast of Africa and is similar in size to their equally famous relatives, the Galapagos tortoises. The animals grow to 1.2 m long and weigh about 250 kg. The Seychelles giant tortoise is known for its impressive longevity of up to 200 years, making it one of the longest-lived species on Earth.
Green Hydra, Freshwater Hydra (Hydra viridissima) is a small freshwater organism related to jellyfish and corals, which lives in temperate zone standing waters in the northern hemisphere. Its size is quite small of about 10 mm. Hydra shows no signs of ageing, and this has led scientists to consider it potentially 'biologically immortal'.
The Greenland shark (Somniosus microcephalus) is an extremely interesting species of shark that lives in the cold waters of the North Atlantic, particularly around Greenland. The species name ('microcephalus') refers to its relatively small head compared to the massive body. The animal reaches 2-7 m in length and 400-1400 kg.
The Greenland shark is considered one of the longest-lived shark species and, in fact, the longest-lived vertebrate species. Individuals of this species are thought to live for centuries, and individuals as old as 200-400 years have been identified in recent studies.
Romfilatelia thanks Senior Researcher Luis Ovidiu Popa, General Manager of the "Grigore Antipa" National Museum of Natural History, for the documentary consultancy granted to the development of this issue of postage stamps.