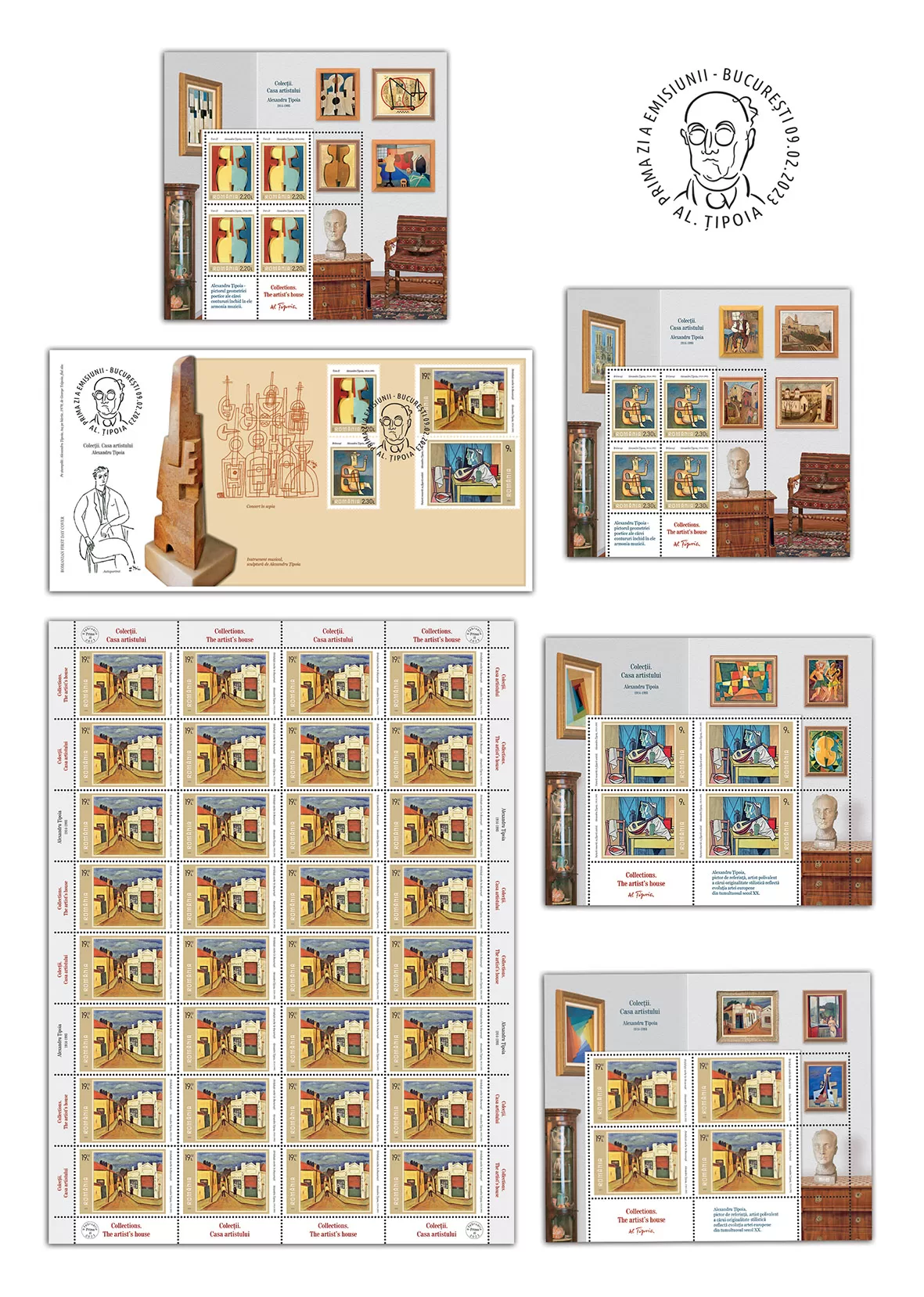 Romfilatelia introduces into circulation on Thursday, February 9th, this year, the postage stamps issue Collections. The artist's house, consisting of 4 stamps and a First Day Cover. The issue is dedicated to the artist Alexandru Țipoia, considered the fourth spiritual pillar of Romanian art that supports the "image architecture" of the 20th century, alongside Alexandru Ciucurencu, Corneliu Baba and Ion Țuculescu.
A complex artist, "a plural spirit in vast domains", as Acad. Răzvan Theodorescu declared, Alexandru Țipoia created a work with an aristocratic refinement of expression, a symphony of colors that makes up a universe of special beauty.
The following works are reproduced on the stamps of the issue: on the stamp with the face value of Lei 2.20, the work entitled TORS II is illustrated. The works Brâncusi  (on the stamp with the face value of Lei 2.30), Still life with ancient figure (on the stamp with the face value of Lei 9) and Old Street in Bucharest (on the stamp with the face value of 19.50 lei) are also reproduced.
Within the First Day Cover of the issue, on the postmark is a depiction of the Portrait of Alexandru Tzipoia, ink on paper, 1970, by George Tzipoia, his son. Furthermore, the graphic composition of the First Day Cover reproduces: Self-portrait, ink on paper, 1943, Pyramid musical instrument, 1965, walnut wood, Concert in sepia, sepia ink on paper, 1978.
 Romfilatelia thanks Mr. George Tzipoia for the documentary and photographic support granted to the development of this postage stamps issue.
The philatelic issue will be available starting Thursday, February 9th, 2023, in Romfilatelia's shops network in Bucharest, Bacau, Brasov, Cluj-Napoca, Iasi and Timisoara and online on https://romfilatelia.ro/store/. 
For further information, please contact the Public Relation Office:
Tel: 021 / 336 93 92