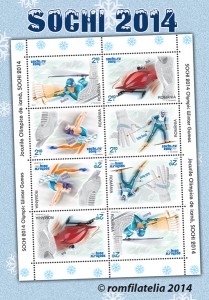 On the occasion of the XXII Olympic Winter Games in Sochi(The Russian Federation), Romfilatelia introduces into circulation the postage stamps issue Sochi 2014 Olympic Winter Games, a great opportunity not only for philatelists, but also for white sports lovers.
It is the first time theRussian Federationhosts an edition of the Olympic Winter Games, which are considered to be the most expensive in the history of Olympic Games.
The Olympic torch was lit at the end of September 2013 inGreece, and arrived inRed Square,Moscow, on October 7th.
Another premiere event is the fact of being the longest relay of the Olympic torch in the history, taking the flame over 64,000 km and across 83 cities.
At the same time, the torch reached the North Pole for the first time, on-board a nuclear-powered ice breaker, and was carried into space, arriving at the International Space Station.
Then it was dived into the deepest lake in the world, the Baikal Lake, was carried above the highest volcano on the Kamceatka Peninsula, passed across the Sahalin Island, and was taken over the cold waters of the Amur River. On February 1st, the Olympic torch will reach the highest peak in the Caucasus Mountains,Mount Elbrus.
The carrying of the Olympic torch symbolizes, next to the dynamism of sports competitions, the spread of peace and friendship across different peoples and nations of the world.
Sochi2014 Olympic Winter Games slogan is "HOT. COOL. YOURS.", and the mascots of this edition are the leopard, the polar bear and the hare.
Athletes from over 80 countries participating in these Olympic Games will compete in 15 sports competitions (alpine skiing, ski jumping, biathlon, bobsleigh, luge, curling, cross-country, freestyle skiing, figure skating, speed skating, snowboard, Nordic combined, short track, ice hockey, skeleton).
Romaniacompetes at Sochi 2014 Olympic Winter Games in the following competitions: bobsleigh, luge, skeleton, cross-country skiing, biathlon, alpine skiing, ski jumping and figure skating.
By combining in a balanced way the bond between graphic art and the brightness of white sports, the postage stamps are meant to be an artistic illustration of the Olympics' essence and spirit, by presenting four of the winter games' competitions, to which Romania takes part: figure skating, alpine skiing, biathlon and bobsleigh.
Romfilatelia thanks the Romanian Olympic and Sports Committee and the International Olympic Committee (IOC)for their support in the accomplishment of this postage stamps issue.
Issue date: 2014-02-07