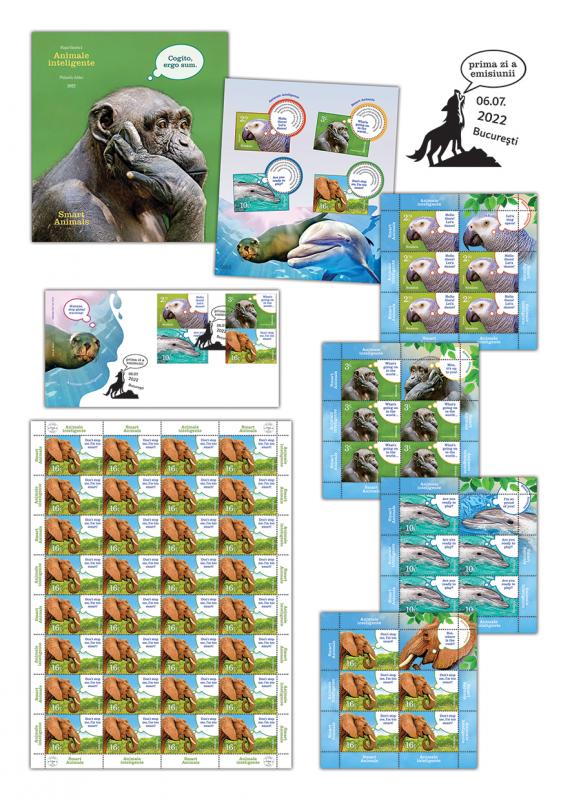 They have emphathy, can communicate, count and even speak. We are talking, of course, abount intelligent animals. Romfilatelia invites you to discover in the dedicated postage issue, animal species with visible native intelligence.
The issue, which consists of four stamps, four minisheets, a first day cover and a special philatelic folder for collectors, will enter into circulation on Wednesday, 6 July this year
On the stamp with the face value of Lei 2.70, is depicted the parrot, often preferred as a pet for its intelligence, thanks to which it understands and adapts to the environment, acquiring new skills.
On the stamp with the face value of Lei 3.00, is illustrated the chimpanzee, which proves its intelligence through its ability to communicate and understand, being able to learn sign language and the use of many tools, surpassing the skill of any other animal on the planet.
 The dolphin, represented on the stamp with the face value of Lei 10, performs difficult tasks, learns from experience and passes on knowledge to others in the group.
The elephant, illustrated on the stamp with the face value of Lei 16.00, lives in herds, with a matriarchal way of organisation. The elephants communicate with each other and can identify each other from three kilometres away.
The sea lion, depicted on the First Day Cover, is a highly skilled and intelligent animal, playful, responsive and with the ability to learn tricks.
The philatelic issue will be available starting Wensday, 6th of July, in Romfilatelia's shops network in Bucharest, Bacau, Brasov, Cluj-Napoca, Iasi and Timisoara and online on https://romfilatelia.ro/store/.
 Romfilatelia thanks the representatives of the "Grigore Antipa" National Museum of Natural History in Bucharest for the documentary support provided to the development of this postage stamps issue.
 For further information, please contact the Public Relation Office:
Tel: 021 / 336 93 92