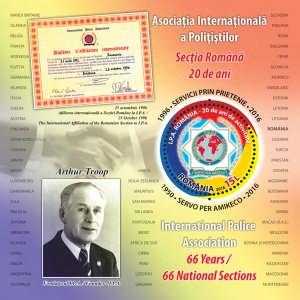 With the occasion of 2 decades of activity, Romanian Chapter of  International Police Association, Romfilatelia dedicates the philatelic issue "Service through Friendship, 20 years from the foundation of IPA Romania", starting with August 24th 2016.
International Police Association (I.P.A.) is the world's largest police association, founded 66 years ago, in Great Britain, which currently has 66 national chapters. Romania has entered this elite policemen club since 1992, on August 31st, by the initiative of Mr. Lieutenant General – Phd. Engr. Iulian Medrea, founder of the Romanian Chapter of the International Police Association, being affiliated with the International Police Association on October 25th 1996.
The number of Romanian professionals registered is over 45.000 members, and thus, our country is on the second place, worldwide. There are among them policemen and gendarmes who are achieving missions in the theatres of operations and ONU missions abroad.
The Romanian IPA Chapter is proud that as part of its ranks there are Romanian athletes such as: Nadia Comaneci, Gheorghe Hagi, Ion Tiriac, Elisabeta Lipa, Lucian Bute, Monica Iagar, Marius Urzica, Ivan Patzaichin and many others.
Their accomplishments in sport has inspired other IPA members in organizing and participating to several competitions, both national and international, in football, handball, swimming, running, etc. The list of the VIPs from the sports' world is completed by many others with artistic preoccupations in literature, plastic arts, music.
The motto in Esperanto language, "Servo per Amikeco – Services through Friendship" under which IPA is underlying its principles, operates and activates is the expression of the ideas assumed by all policemen who adhered at this organization: real fellowship, people trust, fairness, justice, moral support, respect and appreciation for the human values and the rule of the law.
For this philatelic project it was suggestively graphical and chromatically described the mission-belief of the association: framework for friendship.
Kinship, spirit of tolerance, duty fulfillment, solidarity, volunteership, correctness and altruism are some of the values that the members of the association transformed them into a manner of being, of relating to the others around them.
The anniversary stamp with the face value of lei 8, symbolically reflects the association identity elements together with the national heraldry, highlighting the membership of The Romanian IPA Chapter to the values of its mother-association.
The souvenir sheet with the face value of lei 15 illustrates the diploma through which I.P.A. Romania affiliated itself to this prestigious associations on October 25th, 1996 in Brisbane, Australia and the image of Arthur Troop, the English founder of this organization.
The issue is completed by a first day cover set, equipped with the postage stamp and the souvenir sheet. As page composition were used the the minisheet of 8 stamps + 1 label+ 3 tabs and a sheet of 32 stamps.
For further information, please contact the Public Relation Office:
Tel: 021 / 337 24 42
anamaria.anton@romfilatelia.ro