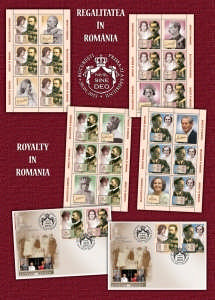 The stamp, promoter and ambassador of the country, is more than a physical product, it has an image, a tradition, a history, travelling through this miniature object offering fascinating stories about the past, present and future.
The latest philatelic issue presents on the stamps a part of our national history – namely the history of Royalty in Romania – philately, which is also called the hobby of kings, praising the Royal Family in numerous projects over time.
Having the face values of lei 3.10, lei 3.30, lei 6.00 and lei 14.50, the postage stamps of the issue Royalty in Romania illustrate the four royal couples from the history of the Romanian Monarchy, together with their monograms, as follows: King Carol I and Queen Elisabeta of Romania, King Ferdinand I and Queen Marie of Romania, King Carol II and Queen Mother Helen of Romania, Their Majesties King Michael I and Queen Anne of Romania.
The informative leaflet accompanying the issue provides more historical details about the stamps' topic and the images represented on them.
The postage stamp issue is completed by a set of 2 first day covers, a set of 4 maxicards and a postal stationery, whose image presents Crown Princess Margareta of Romania together with a group of children from the Foundation with eponymous title, which HRH coordinates.
The postal stationery is created in the context of a double anniversary – the 25th anniversary since HRH Crown Princess Margareta returned to Romania, as well as the celebration of a quarter-century since the establishment of the Crown Princess Margareta of Romania Foundation.
The special product of the issue is the philatelic album, created into a limited edition of 325 pcs. and equipped with the block of 4 postage stamps, with a graphic element in gold foiling and the set of 2 First Day Covers of the issue, having the "first day" postmark clearly imprinted in gold foiling. Both products are numbered from 001 to 325.
As page composition were used the sheet of 20 stamps, the minisheet of 4 stamps + 2 labels and the block of
4 stamps (in philatelic album).
Starting with Friday, January 30th, 2015, the postage stamp issue Royalty in Romania will be available in all Romfilatelia shops in Bucharest and countrywide.
Romfilatelia thanks His Majesty the King's Household for the support granted in the accomplishment of this postage stamp issue.
For further information, please contact the Public Relation Office:
Tel: 021 / 337 24 42