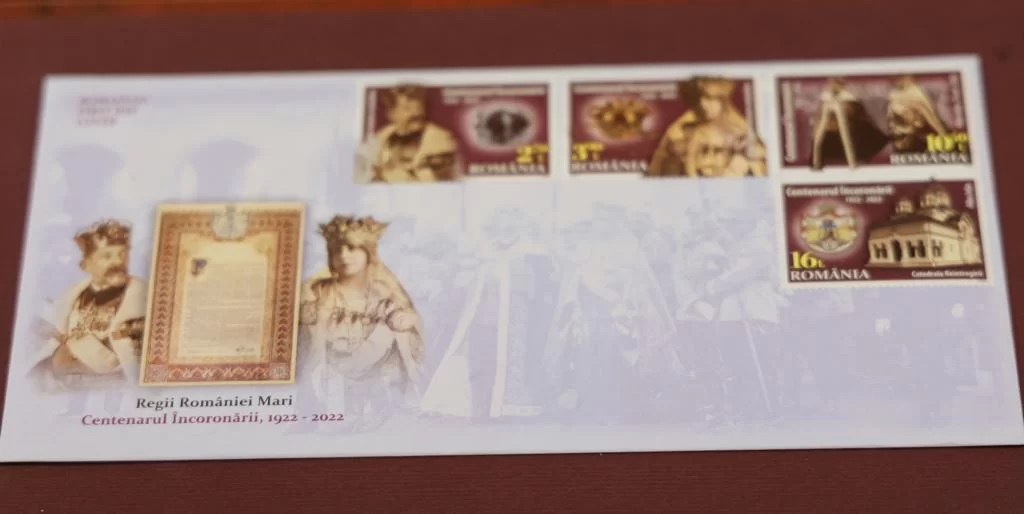 In the "Vasile Pogor" Hall of the Roznovanu Palace, Iași City Hall, together with Romfilatelia, celebrated the Centenary of the Coronation of King Ferdinand I of Romania and Queen Marie, a landmark moment in the history of Romania, by launching and introducing into circulation the "Kings of Great Romania" postage stamp issue and a special philatelic folder dedicated to the event.
In his speech, the Mayor of Iasi mentioned this philatelic folder as being made in conditions of a special quality, by Romfilatelia, one of the main partners of the City Hall of Iași in the development of the Centenary Programme".
During the event, Prof. Gheorghe Cliveti, Ph.D, Director of the "A. D. Xenopol" Institute of History of the Romanian Academy – Iasi Branch and Mrs. Gabriela Haja, Ph.D, scientific researcher and Director of the "A. Philippide" Institute of Romanian Philology, gave speeches about the significance of the historical moment of the Coronation and the role of the Royal House in the creation and activity of the Romanian Academy.
Mayor Mihai Chirica also awarded the title of Honorary Citizen of Iasi to Mrs. Cristina Popescu, General Manager of Romfilatelia, for promoting Iasi's cultural values and for her special involvement in the "Centenary Programme" of Iași Municipality.
In his laudatio speech, the mayor of Iași mentioned:
"Today we also mark a necessary gesture of gratitude. By awarding the title of Honorary Citizen of Iasi to Mrs. Cristina Popescu we express our gratitude to a very good friend of our city.
I see in Mrs Cristina Popescu both a chronicler of the times of yesterday, today but also of tomorrow, as well as an admirable creator of splendid miniature worlds. How much history and how much beauty are hidden in these little perforated squares!
The fact that Mrs. Cristina Popescu has always been with us over the past years, delighting our eyes and souls with so many philatelic folders dedicated to Iași and Moldavia, proves once again that an image is not only as long as a thousand words, but as long as a history!"
At the event, there was a presentation and screening of the documentary film "King Michael: The Road Home" by American producer John Florescu.
The whole action was a solemn event of high standing, as a precious and well-deserved tribute to the two monarchs of Great Romania, King Ferdinand I and Queen Marie, emblematic figures of the history of modern Romania.
Photo source: Iași City Hall