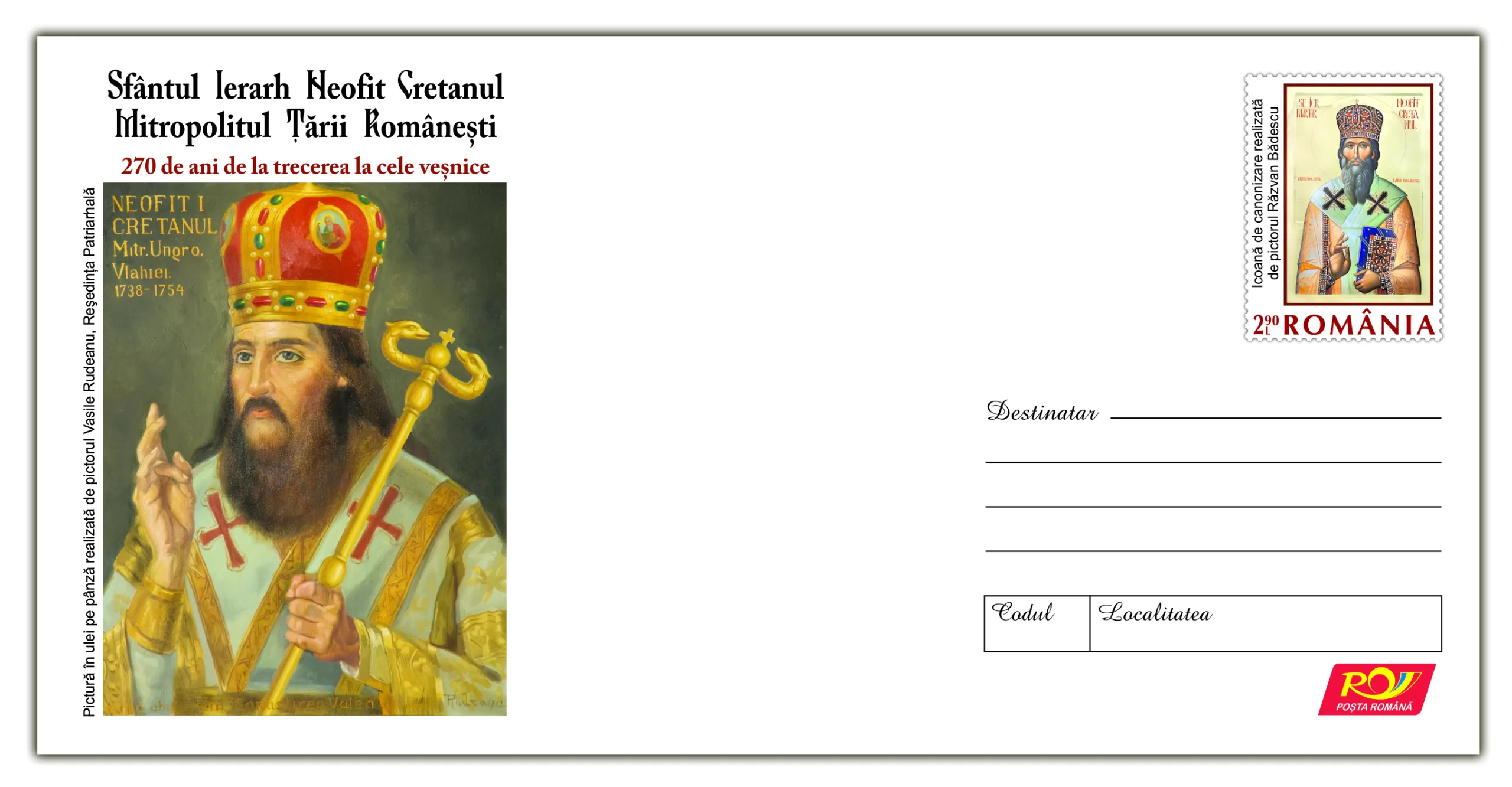 Bucharest, May 21st, 2023
On the occasion of the feast day of the Patriarchal Cathedral in Bucharest, on Sunday, the feast of the Holy Emperors Constantine and Helen, the solemn proclamation of the canonization of Saint Hieromartyr Neophyte the Cretan, Metropolitan of the Wallachia during 1738-1753, took place.
On this occasion, Romfilatelia, a traditional institutional partner of the Romanian Patriarchate, created a special philatelic product to mark the 270 years since his passage into eternity of the canonized Saint Hierarch.
The images inserted on the envelope reproduce an oil painting by the painter Vasile Rudeanu, and the painting belongs to the Patriarchal Residence, and on the postage stamp of the envelope is illustrated the Canonization Icon by the painter Răzvan Bădescu.
The Tomos of canonization was read by His Grace Patriarchal Auxiliary Bishop Varlaam of Ploiești.
The Holy Synod of the Romanian Orthodox Church approved the canonization of the hierarch in its meeting of the 28th of October 2022, with the date of celebration on the 16th of June.
The Holy Hierarch was the main supporter of the abolition of serfdom in Wallachia. He dispossessed all the peasants from the estates of the Metropolitanate, established a public school subsidized by the Church in Pătroaia, Dâmbovița county, founded the Metropolitan Library and printed books in Romanian.
Saint Hieromartyr Neophyte the Cretan, Metropolitan of the Wallachia, passed away to God on June 16th, 1753, but his heroic deeds remain an example of an unwavering defender of the ancestral faith.
Romfilatelia will continue its mission of promoting national values, among which the spiritual ones have a special place.
Photo: Basilica.ro/Raluca Ene
#SaintHieromartyrNeophytetheCretan
#RomanianOrthodoxChurch
#RomanianPatriarchate
#AgențiadeȘtiriBasilica.ro