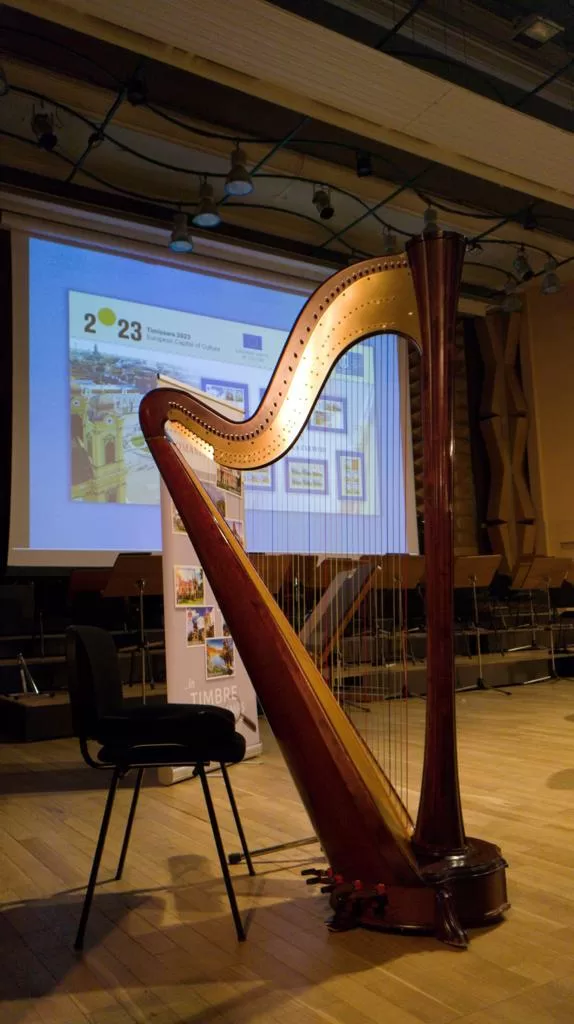 Timișoara, February 17th, 2023
Romfilatelia launched in the Banat Philharmonic Hall, in the preview of the inaugural concert, the issue of postage stamps entitled "Timișoara 2023, European Capital of Culture", in the presence of the Minister of Culture, Lucian Romașcanu and Mayor Dominic Fritz.
Romfilatelia has enjoyed the participation of the Secretary of the Chamber of Deputies and member of the Parliamentary Group of National Minorities, Ovidiu Ganț, the Secretary of State of the Ministry of Culture, Andras Istvan Demeter, the representatives of the Politehnica University of Timișoara, the cultural institutions of Timișoara and the Philatelic Association, as well as other guests.
In her opening speech, Cristina Popescu mentioned the role of the postage stamp as an ambassador and promoter of excellence, highlighting that Romfilatelia, through everything it does, supports, affirms and promotes the national interest.
The Minister of Culture congratulated the Romfilatelia team, evoking the importance of the postage stamp as a means of public diplomacy and a cultural jewel, also convinced of the success of Timisoara's projects.
In conclusion, the Mayor of Timisoara noted the collaboration with Romfilatelia in the choice of tourist and architectural objectives illustrated on the series of the philatelic issue, evoking the sending of messages to the participants, tourists at the events of over 30 cultural communities that will host in the coming period. The mayor highlighted that "the postage stamp is a symbol of dialogue between cultures, promoting the image of Timisoara in the public space".
Today, the Banat is still the forefront and this city, Timișoara, the capital of the Banat, is also the European Capital of Culture for this year!
Thanks to our partners from Banatul Philharmonic and to the soloist Mihaela Faur for her touching harp performance!