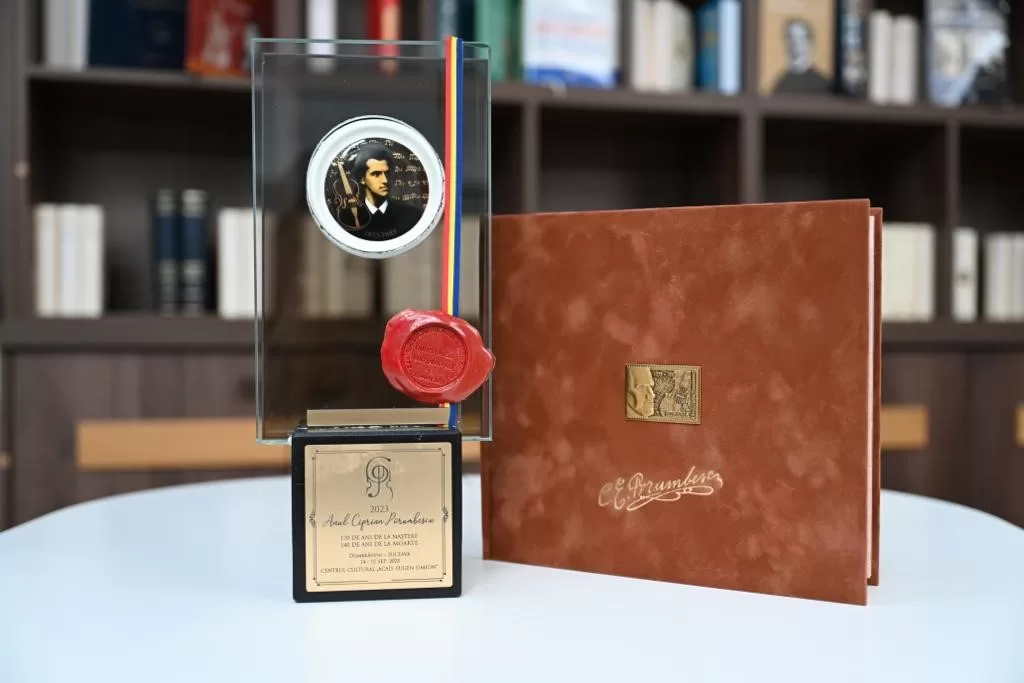 For 2 days, Dumbrăveni Town Hall in Suceava was a centre of attraction for cultural personalities, by organizing the event "Ciprian Porumbescu. 170. A life, an era, an ideal", together with the "Eugen Simion" Cultural Centre within the "Ciprian Porumbescu Year".
The event started on Thursday, September 14th with book launches, poetry recitation, musical moments and the screening of the film "Ciprian Porumbescu".
Romfilatelia, as a traditional institutional partner of Dumbrăveni Town Hall, joined the cultural event by creating the special philatelic album "Ciprian Porumbescu, "New Moon" of immortal music", presented by Mayor Ioan Pavăl. The philatelic tribute album, produced in a high-quality graphic presentation, benefited from the honourable preface of Mr. Ioan Aurel Pop, President of the Romanian Academy.
Special guests of the event were the actor Vlad Rădescu, who memorably played Ciprian Porumbescu in the biographical film, the former Minister of Economy, Varujan Vosganian, as well as two internationally acclaimed musicians – Ștefan Doniga and Diana Jipa.
"It has rarely happened to me to come to a place where culture is so highly valued as it is here in Dumbrăveni. Sometimes you don't meet as many cultural personalities in Bucharest, Cluj or Iași as I have been able to meet here – a cultural centre like few others in Moldova or even in the whole country. The way it has managed to attract people of culture here, to organise cultural events, to bring young people here closer to books, is quite remarkable", said Varujan Vosganian.
Romfilatelia, together with the Dumbrăveni Town Hall and the Acad. Eugen Simion Cultural Centre, have done their duty of honour to pay tribute to the memory of an outstanding personality of Bukovina, responding with emotion to the events organised, to the wish expressed by Ciprian Porumbescu in his last words: "Don't let my music die!".
#CiprianPorumbescu #CiprianPorumbescuYear #NewMoonofImmortalMusic #RomanianAcademy #DumbrăveniTownHall #Acad.EugenSimionCulturalCentre #BukovinaNationalMuseum  #NationalArchivesofRomania