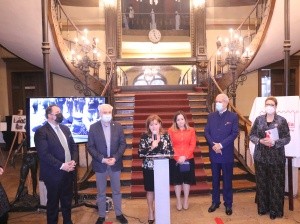 Bucharest, March 4th, 2022
The Bucharest Municipality Museum hosted the documentary exhibition "Nicolae Titulescu – leader of Romanian and European diplomacy", inaugurated at Suțu Palace.
Romfilatelia, as an institutional partner, joined the organizers of the event, namely the Titulescu European Foundation, the Ministry of Foreign Affairs, through the Diplomatic Archives Unit, the National Archives of Romania and the Bucharest Municipality Museum.
On this occasion, Romfilatelia launched a postal stationery entitled "140 years since the birth of Nicolae Titulescu. A Tribune of Peace", as a tribute to the outstanding politician, who played an essential role in a series of important decisions for Romania, jurist and professor, full member of the Romanian Academy, a great orator, with an exceptional talent for anticipating events and debating ideas, which, over the years, would prove to be of great accuracy and relevance, the entire diplomatic career of Nicolae Titulescu, one of the most brilliant personalities of international politics at the time, was admired and appreciated internationally.
Romfilatelia will continue its mission as a promoter of national values, through the postage stamp, a true ambassador and instrument of public diplomacy.
This event took place in compliance with the rules of social distancing and other preventive measures during the Covid-19 pandemic.