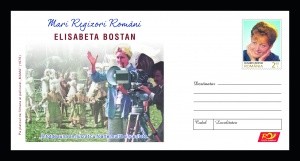 As a token of appreciation for all her activity, Romfilatelia paid tribute to Mrs. Elisabeta Bostan, the director, by dedicating to her an anniversary postal stationery.
It was presented at the CineCopilăria Festival held in his hometown Buhuși from March 5th to 6th, 2022.
The CineCopilăria Festival brought to the Buhuși Culture House a programme of photography exhibitions, film screenings, book launches and film meetings. On this occasion, the cultural institution was officially named "Elisabeta Bostan" Buhuși House of Culture and the director was named honorary citizen of the city.
Among the guests there were some of the cinema's closest friends and Romanian actors, with whom Elisabeta Bostan has collaborated over the years: Izabela Bostan, Manuela Hărăbor, George Mihăiță, Ileana Popovici, Laurențiu Damian, Bianca Brad, Mircea Diaconu and Medeea Marinescu (online intervention).
The festival also marked the celebration of 50 years since the release of the most loved and popular children's movie, Veronica, which had a special screening in Buhuși, where the audience met some of those who gave life to the characters.
Thank you very much Mrs Elisabeta Bostan for the unique and emotional moments through which you carried us with so much love.