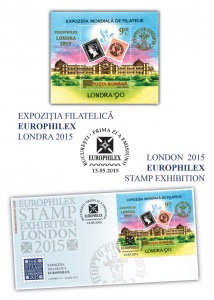 "… A bit of paper just large enough to bear the stamp, and covered at the back with a glutinous wash."
(Rowland Hill about Penny Black)
Silent witness of the most significant events in our country's history and culture, the stamp resumes meanings and messages in images-symbol, which survive the passing of time and enrich not only the philatelic heritage, but also the national one, a recognized legacy, representative for the Romanian people, but also for future generations.
This time, the Romanian stamp celebrates a landmark event of the philatelic field – 175 years since the issuance of the first world stamp, known under the name of Penny Black, a British invention that revolutionized communications and changed the lives of people everywhere.
In an age when communication is more important than ever, this invention deserves to be celebrated, Romfilatelia issuing on this occasion a new postage stamp issue entitled London 2015 EUROPHILEX Stamp Exhibition. The project has a double significance: marks this important philatelic anniversary and brings back into the public's attention the World Philatelic Exhibition London '90, one of the greatest of all philatelic exhibitions of the time, which celebrated the 150th anniversary of the Penny Black.
The postage stamp issue is an overprint referring both to the event in 1990 and the souvenir sheet issued by Romania on that occasion. Moreover, the issue also highlights the current exhibition, EUROPHILEX 2015, a landmark event in the international philatelic calendar, which is in fact, the first exhibition in London that will take place under the patronage of FEPA, the Federation of European Philatelic Associations.
The souvenir sheet portrays in the background the image of the Alexandra Palace in London, the location of the London '90 exhibition, a historic place. The building, originally named "The Palace of the People" was renamed to commemorate the popular Princess of Wales, Alexandra of Denmark, who has married Prince Edward on
March 10, 1863. Likewise represented are the first stamp in the world, the famous Penny Black, and the first Romanian stamp, the Bull's Head, 27 parale.
The overprint elements illustrate in gold foiling the Bull's Head, 27 parale, the new event celebrated, EUROPHILEX 2015, its location, London, as well as the new face value of the stamp of lei 9.10.
The philatelic project consists of a perforated souvenir sheet and the first day cover of the issue.
Starting with Wednesday, May 13, 2015, the postage stamp issue London 2015 EUROPHILEX Stamp Exhibition will be available in all Romfilatelia shops in Bucharest and countrywide.
The first day of the issue coincides with the opening of the London 2015 EUROPHILEX Stamp Exhibition, which will be held on 13-16 May and to which Romfilatelia participates and represents Romania throughout the event.
At the same time, to mark the strong diplomatic relations between Romania and the United Kingdom, in 2015 celebrating the beautiful 135-year anniversary of friendship and cooperation, Romfilatelia issued a special philatelic product, the postal stationery dedicated to this moment.
For further information, please contact the Public Relation Office:
Tel: 021 / 337 24 42