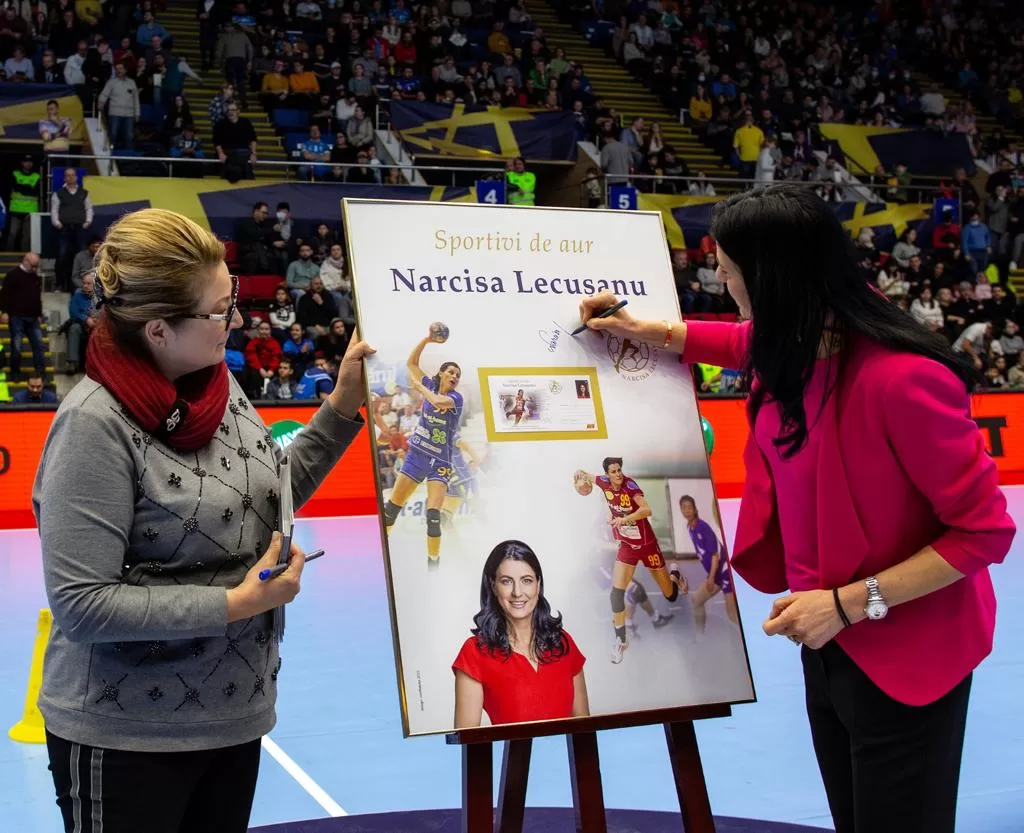 Bucharest, February 5th, 2023
The Polivalent Hall in Bucharest hosted the fabulous women's handball match between CSM Bucharest and Brest Bretagne in Group A of the Champions League.
In an incendiary atmosphere, when the CSM Bucharest supporters encouraged their team throughout the match, Cristina Neagu scored in the end, from an impossible position, bringing a draw as much as a victory and 1st place in the group.
On the occasion of the match, Romfilatelia had the pleasure and honour to present to the public and friends of Romanian handball, the special philatelic product dedicated to the great sportswoman Narcisa Lecușanu.
"Follow your dream. You know the rules of the game. All you have to do is play better than you did yesterday" is the world handball player's exhortation.
Under the aegis of "Golden Athletes", Romfilatelia is including in the project dedicated to them the performance of world champion Narcisa Lecușanu, by introducing into circulation a philatelic product.
The handball player Narcisa Lecușanu registered in her Record the Gold Medal at the World Youth Championship (1995), the Silver Medal in the Senior category in 2005, EHF Cup Winner (2004 and 2007), EHF Super Cup Winner (2007), Romanian Champion (2007, 2008, 2009, 2010), Macedonian Champion (1997, 1998), German Champion 2002, Champions League Finalist (2010).
Thank you, Lucian Tudose, for the pictures taken!