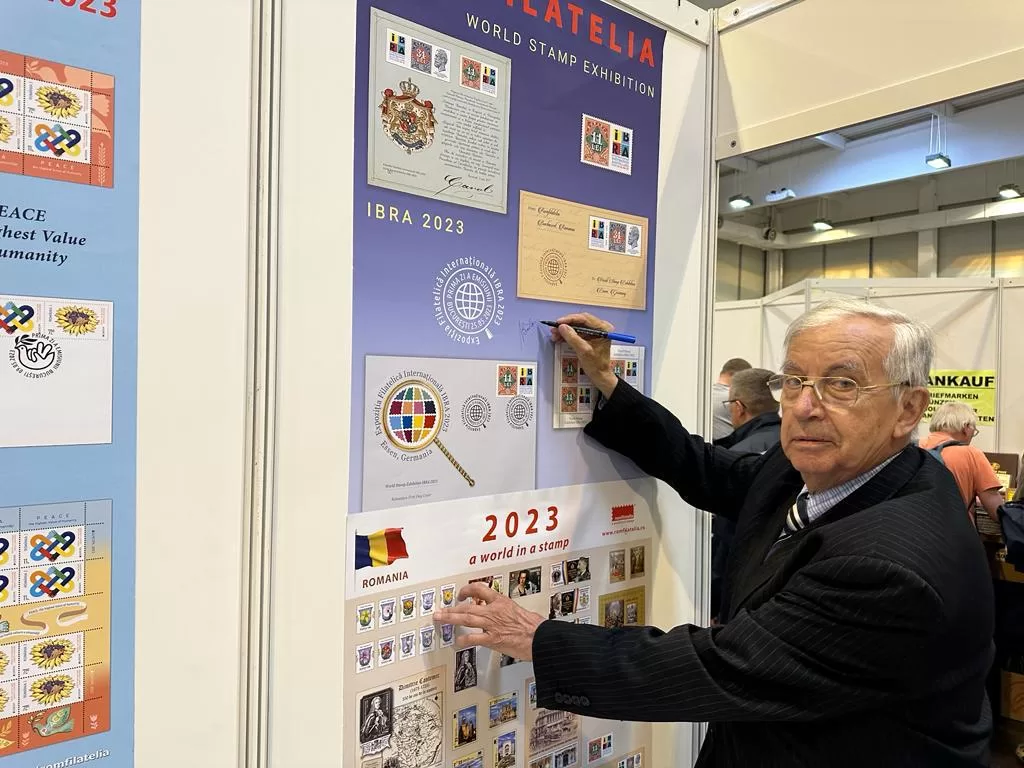 Essen, Germany, May 25th, 2023
On the occasion of an international philatelic event awaited by collectors, the IBRA 2023 Exhibition, organized under the patronage of the International Philatelic Federation (FIP), Romfilatelia participates, from May 25th to May 28th 2023 with a sales stand.
On this occasion, on May 25th, the opening day, Romfilatelia launched the issue entitled "World Stamp Exhibition IBRA 2023", dedicated to the event, together with Rudolf Jelinek, Mayor of Essen, Ian Billion, General Manager of Deutsche Briefmarken-Revue and organizer of the Philatelic Fair, David Feldman, Founder of the Swiss Auction House, Romanian collectors, including the President of the Romanian Philatelic Federation, Ion Chirescu, President of the Timișoara Philatelic Association, Marius Muntean, President of the "Bartoc" Cultural Foundation, Eng. Alexandru Bartoc.
The joy of reunion with partners, collectors and traditional customers, in a warm, friendly atmosphere, reaffirmed the role of the stamp as a state symbol and a travelling ambassador, the success of the special issue "World Stamp Exhibition IBRA 2023", with elements visible in UV, fully demonstrating that the postage stamp knows no barriers and borders, connects friends, "takes you out into the world and brings the world into your home".
For the Romfilatelia team, beautiful days are ahead with collector friends, who appreciate Romanian postage stamps, but especially ROMANIA.
#IBRA 2023
#GemeindeEssen
#Passions
#MinistryofCulture
#MesseEssen
#RomanianPhilatelicFederation
#TimișoaraPhilatelicAssociation #BartocCulturalFoundation