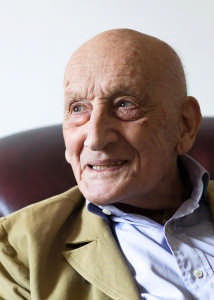 Honour, happiness and admiration – these were the emotions that Romfilatelia's team, represented by the CEO Mrs. Cristina Popescu, and Luminita Toncu shared on August 17th  2016, visiting Mr. Neagu Djuvara.
For him, time has a special meaning, as on the 18th of August, Mr. Djuvara is celebrating the venerable age of 100 years.
On this occasion, Romfilatelia will issue a postal stationary as a sign of respect and appreciation for the PROFESSOR, the ARISTOCRAT, and particularly for the MAN, Neagu Djuvara.
The activity of Mr. Djuvara as a historian, diplomat, philosopher and writer, the dedication with which he involved himself over the decades in the cultural and diplomatic areas enlists his biography in Romanian personality's first rank series.
A "well-tempered skeptical", as he defines himself, Mr. Djuvara  received as a pleasant surprise the  news of Romfilatelia's special project which continues to offer for the public the postal stationeries, illustrating pictures and names cherished and appreciated by Romanians.
The genuineness and vivacity of dialogue, an impeccable memory for evoking personal moments or Romanian history, prove that the secret of his longevity is in the beauty of his spirit.
Under the same symbol of gratitude, a few days ago, Mr. Klaus Iohannis, President of Romania, signed the decree for the decoration with the Order the Star of Romania, grade of Knight, "as a sign of high appreciation for the loyalty he has served his country with, for his personal commitment to the politic, diplomatic and cultural processes that promoted the values, history and image of our country in the world, as well as the high moral attitude he proved over time".
We need this kind of landmarks of intellectual and moral high level. The honor and joy to have been close to him, even for a few moments, to breath the same atmosphere next to this impressive personality of his, are emotions that could be easily transformed into a lesson of life, a lesson that you might wish to share with others.
Romfilatelia wants to thank for the support in organizing this meeting Mr. Alexandru Skultéty, editor at Humanitas Publishing House, as well as Mr. Lucian Tudose for the inspired pictures taken on this occasion.
On behalf of the Romfilatelia team, Happy birthday and all the best wishes, dear Mr. Neagu Djuvara, with all our admiration, respect and consideration that you totally deserve!