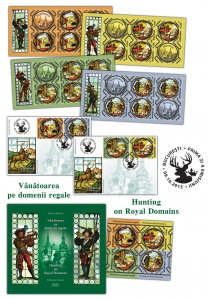 With a rich and long history, whose source can be found in mythology, but also in popular belief, hunting is an occupation with a significance shaped by time, which evolved from ensuring the need for food and the defence from potential animal attacks to that of hobby or passion, the last meaning receiving, in time, cultural or symbolic connotations.
Hunting as a royal passion is the topic of the latest postage stamp issue made by Romfilatelia, whose suggestive title – Hunting on royal domains – indicates that this activity was favored by royalty, being considered a privilege, but also a traditional occupation based on rituals and proper language. Starting with Friday, October 9th, 2015, the items of the issue will be available for purchase in Romfilatelia's shops in Bucharest, Bacau, Brasov, Cluj-Napoca, Iasi and Timisoara.
The four stamps of the issue, with the face values of lei 2.00, lei 3.30, lei 4.30 and lei 14.50, illustrate stained glass within the Peles Castle, created at the end of the 19th century, in the Zettler workshops (Munich). The stained glass windows reproduce animals or hunting scenes such as the climax of hunting stags, hares, wild boars and bears, thus offering a suggestive description of the way in which this activity was perceived and practiced at that time.
A set of 2 first day covers completes the philatelic issue, as page composition being used the sheet of 20 stamps, the minisheet of 4 stamps with illustrated border and the block of 2 stamps.
The philatelic album, which is the special product of the issue, is created into a limited edition of 245 pcs. and is equipped with the block of the issue and the set of 2 first day covers with the "first day" postmark clearly imprinted in gold foiling. The products are numbered from 001 to 245.
Romfilatelia thanks the Peles National Museum for the documentary support granted in the achievement of this postage stamp issue.
* * *
The story of the stamps issued by Romfilatelia starting with 2004 is a wonderful journey through the beauty and richness of Romania, illustrating scenic landscapes, renowned institutions, outstanding personalities of the Romanian people, traditions passed on from generation to generation, national values and symbols which carry the name of Romania across its borders. For over a decade, Romfilatelia and the national postage stamp are your one way ticket to education, culture and knowledge.
For further information, please contact the Public Relation Office:
Tel: 021 / 337 24 42