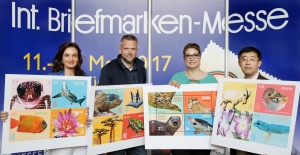 On Thursday, April 11th  2017, during the opening of the official ceremony of the International Stamp Fair in Essen, Germany, Romfilatelia launched the joint stamp issue Romania – United Nations Postal Administration, Endangered Species.
The event was attended by the Romfilatelia team led by Mrs. Cristina Popescu,  Mrs. Clarsissa Fuersinn, United Nations Postal Administrtation Sales and Marketing Team Lead, Mr. Yuan Liu, representative from CITES (Convention on International Trade in Endangered Species of Wild Fauna and Flora), Mr. Völker Grun, representative from the Duisburg Zoological Garden, the organizer of this philatelic event, Jan Billion, the fair director and other guests and officials.
The Romanian stand was visited by several collectors and visitors of the exhibition, who appreciated the stamps of the common issue Endangered Species, as well as the thematic philately panel, the special product that this year which celebrated the "25th  Anniversary of  Signing Romania – Germany Friendship Treaty" postal stationary.
The International Stamp Fair in Essen is a traditional event organized annually in Germany, which brings together passionate collectors as well as collaborators and partners , an opportunity for active dialogue and exchange of ideas in the efforts to maintain our market position in the context of new technological challenges.
Romania's presence at this representative event for the philatelic world reopened the dialogue with France in view of the joint  issue in 2018,  and also the development of collaboration with the WOPA – International Philatelic Agency,  as well as the expansion of new markets for the Romanian stamp.