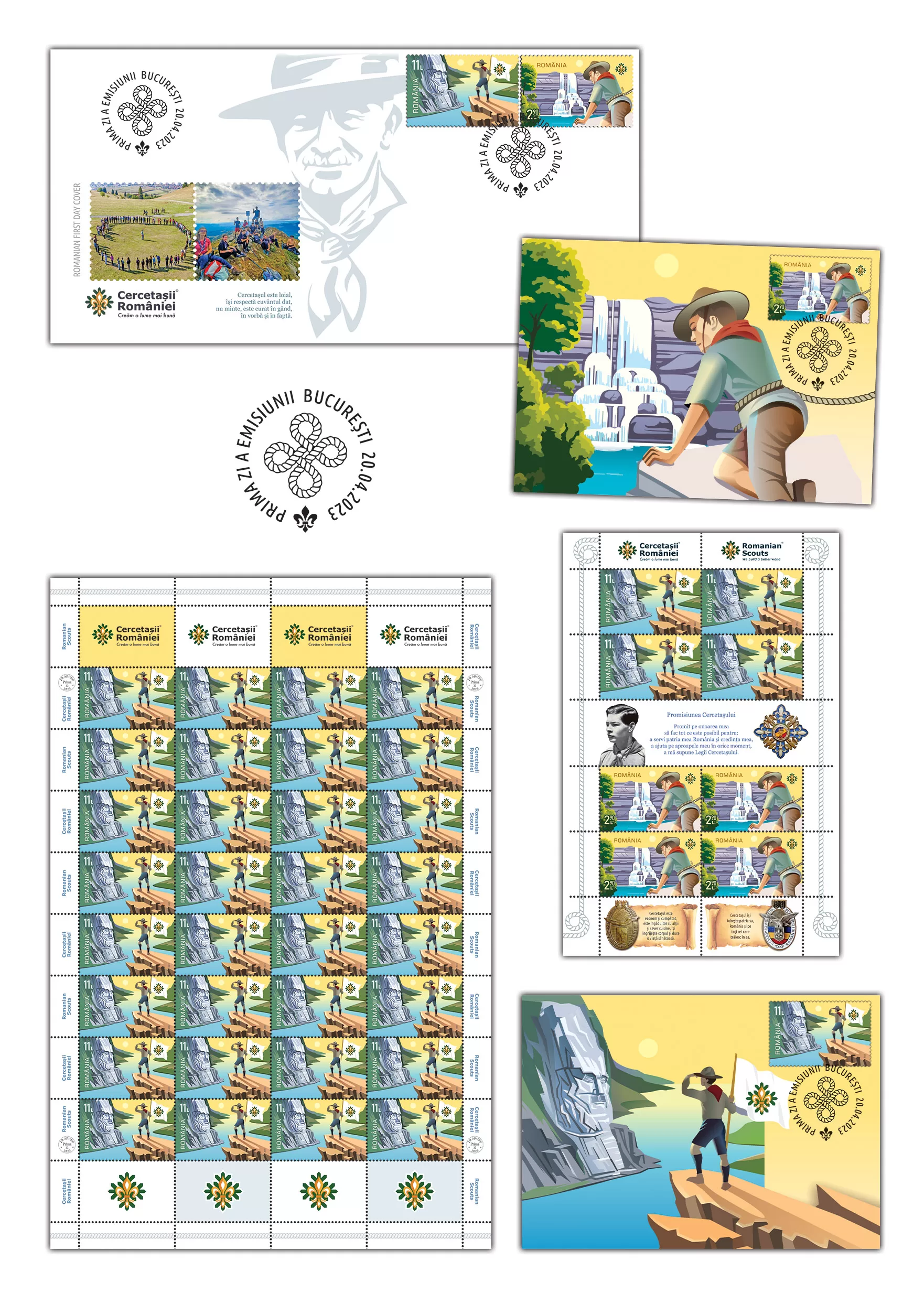 In the topic dedicated to the promotion of youth education in Romania, Romfilatelia introduces into circulation on Thursday, April 20th, this year, the issue of postage stamps entitled Romanian Scouts, consisting of 2 postage stamps with the face values of           Lei 2.90, and Lei 11, respectively a First Day Cover and a set of maxicards for maximaphily enthusiasts.
Scouting (an activity organised under the coordination and guidance of a scout organisation), has a well-known and well-established tradition in Romania. The centenary of this activity was celebrated in our country in 2013, recalling the fact that in the summer of 1913, a few students from the "Gheorghe Lazăr" High School of Bucharest formed the first scout patrols, experimenting scouting in the Bucegi Mountains.
Officially, "Romanian Scouts" Association was founded on May 12th, 1914. Benefiting from the direct support of King Carol I and Princes Ferdinand and Carol, the organization grew visibly, and in 1916 it succeeded in having more than 9,000 scouts grouped into 34 legions and 56 cohorts.
Guided by the 10 Scout Laws, each member must have in mind, among other things, love of country, helping fellow people, protecting nature and wildlife, respect for parents and teachers, the desire to learn for oneself and to teach others, to have as a permanent goal "at least one good deed a day".
Note that the motto of the Romanian Scouts is GATA ORICÂND! (adapted from the motto Be prepared by Sir Robert Baden-Powell, founder of the Scout Movement).
Romfilatelia thanks the representatives of Romanian Scouts Organization for their documentary and photographic support granted to the development of this issue of postage stamps. 
The philatelic issue will be available starting with Thursday, April 20th, 2023, in Romfilatelia's shops network in Bucharest, Bacău, Brașov, Cluj-Napoca, Iași and Timișoara and online on https://romfilatelia.ro/store/. 
For further information, please contact the Public Relations Office:
Tel: 021 / 336 93 92