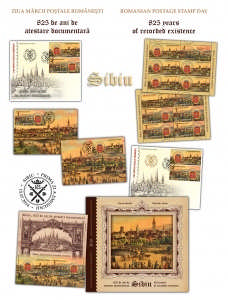 Each year, on July 15th, the national philately celebrates the Romanian Postage Stamp Day, thus marking the issuing of the first stamp in our country, by the Principality of Moldavia, namely the famous Bull's Head.
In 2016, 158 years after the issuing of the first Romanian stamp, Romfilatelia marks this day through a special philatelic issue dedicated to one of the most representatives cities in Romania, an important historical, touristic, cultural and economic centre – Sibiu, at its beautiful anniversary. The postage stamp issue is suggestively entitled Sibiu, 825 years of recorded existence and can be purchased starting with Friday, July 15th, 2016, in Romfilatelia's stores in Bucharest, Bacau, Brasov, Cluj-Napoca, Iasi and Timisoara.
Having a historical topic, the stamp project celebrates 825 years of Sibiu's recorded existence, its first documentary mention dating from 1191. In this early stage of the settlement, the Saxon colonists brought with them the habits and knowledge of craftmanship which were much advanced when compared to what one could find at that moment in Transylvania.
Over time, Sibiu faced numerous changes, some caused by the great Tartar invasion, others by the many attemps to conquering the city, which led to a higher attention paid to fortifications, the city becoming one of the strongest in the area. At the beginning of the 16th century, Sibiu was presented as a prosperous city, in full expansion, the number of guils becoming bigger, and the gunsmiths, munitions experts, printers and fine metal smiths taking the city's faime far abroad.
The two anniversary stamps reproduce the image of a painting by author Franz Neuhauser the Younger, General view of Sibiu in 1808, currently in the heritage of the Brukenthal National Museum. The graphics of the stamps also includes the current emblem of the city.
The issue is completed by a first day cover and a set of 2 maxicards, and as page composition were used the sheet of 28 stamps, the minisheet of 5 stamps + 1 label and the block of 2 stamps (in philatelic album).
The special product of the issue the philatelic album, created into a limited edition of 245 pcs. and equipped with the block of 2 stamps of the issue and the first day cover having the first day" postmark clearly imprinted in foiling. Both products are numbered from 001 to 245.
The illustrated border of the issue's block, presented in the philatelic album, shows off details of a document from the Sibiu County Department of National Archives, a certificate issued by the carpenter's guild of Sibiu, dated 1798 and which portrays a panorama of the city at that time.
The issue's "first day" postmark is available in Post Office Sibiu 1, located in Mitropoliei Street
no. 14, Sibiu, Sibiu County.
Romfilatelia thanks the Sibiu City Hall, the Sibiu County Department of the National Archives and the Brukenthal National Museum for the documentary support granted in the creation of this postage stamp issue.
For further information, please contact the Public Relation Office:
Tel: 021 / 337 24 42
anamaria.anton@romfilatelia.ro