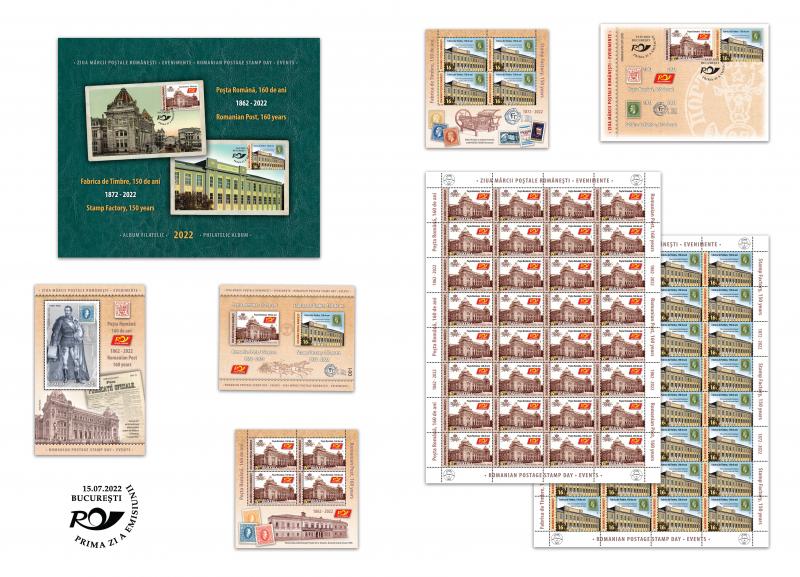 On the occasion of the "Romanian Postage Stamp Day" 2022, Romfilatelia, designated by the Romanian Government as the only institution authorized to issue Romanian postage stamps, provides to the general public and passionate collectors, an anniversary issue dedicated to the Romanian Post and the Stamp Factory, which sign up 160 and respectively 150 years since their establishment.
The issue, presented under the generic title "Romanian Postage Stamp Day. Events", will be introduced into circulation, during the launching ceremony that will take place in the Ion. H. Radulescu Amphitheater, inside the library of the Romanian Academy, on Friday, July 15, this year.
The postage stamp with the face value of Lei 6,50 and the perforated souvenir sheet (with the face value of the stamp of Lei 32) are dedicated to the Romanian Post. In the graphic composition of the two philatelic pieces, are found the Post Palace, as presented in the year 1906, the portrait of the signatory of the Founding Decree, Al. Ioan Cuza and the facsimile of the Decree no. 527 (August 1st 1862), by which it was ordered the unification of the post administrations of the two Principalities.
The postage stamp with the face value of Lei 16 presents the current headquarters of the Stamp Factory (built in 1924) and the first stamp with the face value of Bani 1½ , belonging to the first postage stamps issue printed at the Stamp Factory.
Moreover, the collectors will find, in the issue, a special block of two imperforated stamps and a souvenir cover (national philatelic premiere) in the album.
Romfilatelia thanks to the representatives of the National Archives of Romania and of the Monitorul Oficial Publishing House, for the documentary support granted to the development of this postage stamps issue.
For further information, please contact the Public Relation Office:
Tel: 021 / 336 93 92