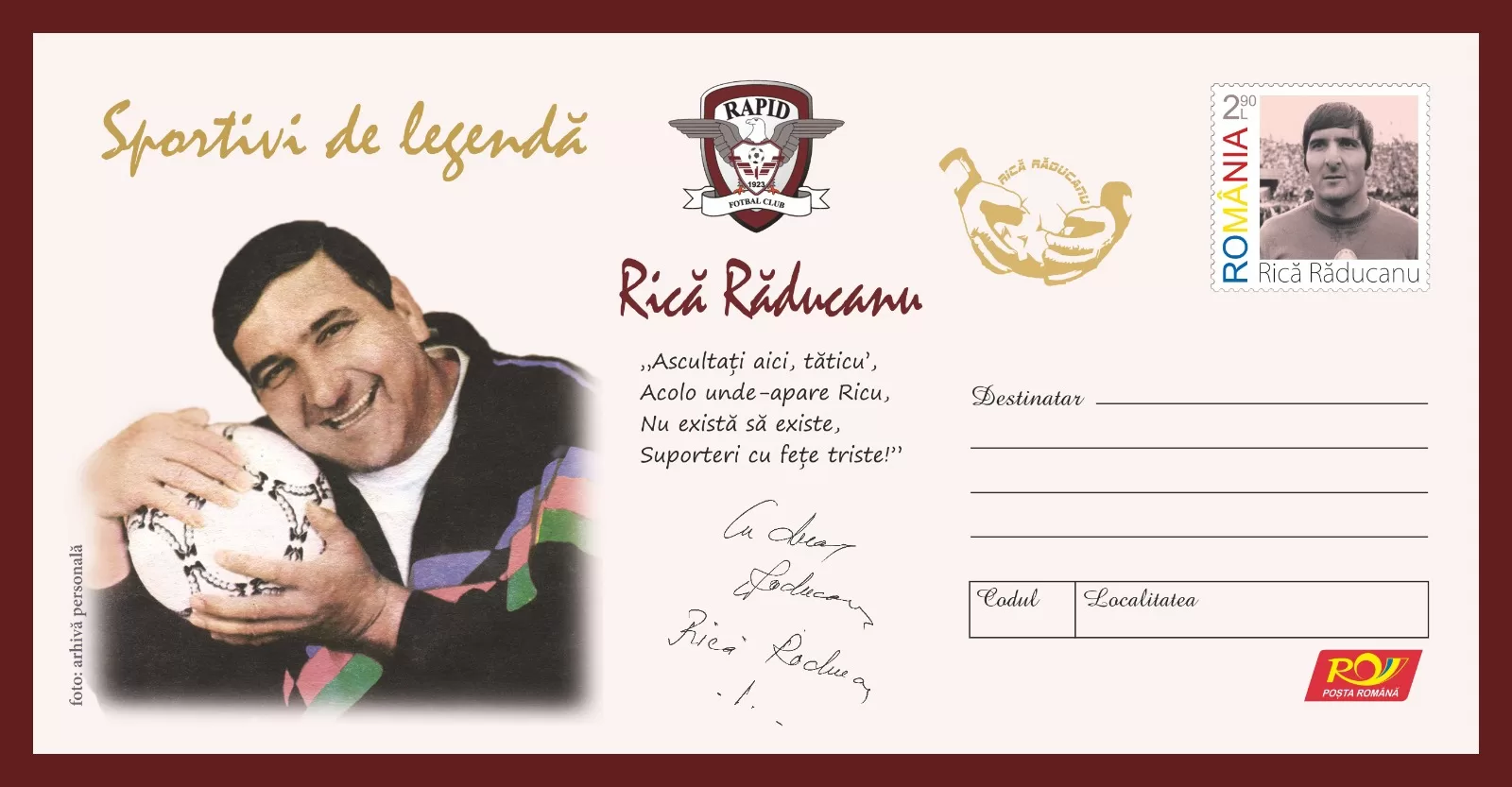 Bucharest, June 23rd 2023
In the Royal Hall of the Northern Railway Station, a place full of history, Romfilatelia was invited to launch, together with the management of the Rapid Sports Club of Bucharest and friends, the postage stamps issue dedicated to the Centenary anniversary of one of the most beloved sports clubs.
Cristina Popescu, Romfilatelia's CEO, presented the elements of the issue, the two postage stamps illustrating in the graphic composition an image of the Club's "jewel", the future football arena and sequences of sports events: a volleyball match, a "gallery" enthusiastic about winning a volleyball cup and a grandstand with spectators. The Club's emblem, which includes the well-known CFR emblem, personalises the overall images of the postage stamps.
The philatelic souvenir sheet, with a generously sized perforated postage stamp, appears as an entrance to a football arena, in which the architecture of the current stadium façade is complemented (figuratively) by the architecture of the future modern arena of football-king.
In the graphics of the souvenir sheet are depicted medal-winning athletes at the Olympic Games, amongst them Vali Ionescu, Violeta Beclea, Gabriela Szabo and Marian Oprea. Violeta Beclea won silver at the Sydney 2000 Olympics in the 1500m event. Rapid's most prolific athlete at the Olympic Games was Gabriela Szabo. Szabo took silver in the 1500m in 1996, in Atlanta, bronze in 2000, in Sydney, in the 1500m, and gold, also in Sydney, but in the 5000m. Both athletes enjoyed special philatelic products.
At the unveiling of the anniversary panel, we enjoyed the presence, together with Bogdan Vasiliu, general manager of Rapid Sports Club of Bucharest, of the great handball champion Alina Dobrin, winner of the City Cup in 2000, national champion in 2003 and member of the Romanian national team.
The surprise of the evening was the launch of the special philatelic product with the theme "Legendary sportsmen", dedicated to Rică Răducanu, goalkeeper of the national football team, who had the greatest successes of his sports career when he played for Rapid Sports Club of Bucharest and who is still loved by supporters.
A sports club loved everywhere, everywhere at home!
Happy Anniversary, Rapid Bucharest!
#RapidSportsClub #MinistryofTransport #NorthRailwayStation #AlinaDobrin #RicăRăducanu #Agerpres #Athletes #Passionsi #SportsAnniversaries