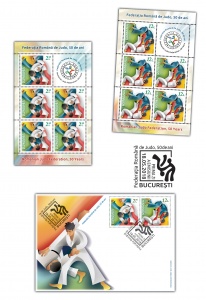 Romfilatelia introduces into circulation the postage stamp issue The Romanian Judo Federation, 50 years, celebrating the impressive tradition and record of this sport forum, achieved over half a century.
The new issue will be available on Friday, May 18th, 2018, in Romfilatelia' own shops network in Bucharest, Bacau, Brașov, Cluj-Napoca, Iași and Timișoara and online on https://romfilatelia.ro/store/.
The postage stamp issue contains two values, respectively Lei 2.90 and Lei 12.00, both illustrating fighting techniques specific to this sport.
Judo, a traditional Japanese sport, is a martial art created in 1882 by Jigoro Kano (1860-1938), as a modern replica at ju-jitsu – a fighting technique dating back to antiquity, from the time of the samurai.
Jigoro Kano has formed his own style, originally called Kano-ryn, and later Kodokan Judo, maintaining the throwing and grappling techniques of the traditional ju-jitsu. Judo, practiced in a room called dojo, preserves the educational value of the most effective and less dangerous technical fighting techniques, relying on the use of grace instead of the brutal force.
Popularized in Europe at the beginning of the last century, Judo gradually lost its martial art character, turning into a sport and becoming an Olympic sport in 1964.
The Encyclopedia of Physical Education and Sports in Romania noted that in our country, summary knowledge of ju-jitsu and judo has become popular due to the travel of some military and diplomats in Japan since 1900. The dissemination of some ju-jitsu technical processes continues with the publication, in 1912, of a Complete jiu-jitsu course. Practical defense method, by author Gheorghe Carapancea. In 1934, the first ju-jitsu and judo contest was organized under the leadership of Professor Emilian Teaca, holder of a black belt 1 dan, both in military units and among gendarmes and firemen.
The Romanian Judo Federation was established on May 21, 1968 and the following year, the first International Championships of Romania were organized.
The Romanian judoka record, seniors and juniors, is impressive, including dozens of medals obtained by participating in different competitions. Among them, we mention the European Championships in 1977 (Ludwigshafen, Germany), 1978 (Miskolc, Hungary) and 1979 (Bruxelles, Belgium), where Romanian athletes won bronze medals, as well as the 1980 European Championship (Vienna, Austria), where male judoka Nicolae Vlad won the first gold medal and the title of European Champion.
The Romanian debut at the World Judo Championship takes place in 1979 (Paris, France), with honorable results. Two years later, at the World Championship in 1981 (Maastricht, the Netherlands), male judoka Constantin Niculae became world champion in the semi-finals category. It is followed by the participation in the World Championships in Moscow (Russian Federation) in 1983, Hamilton (Canada) in 1993 and Tokyo (Japan) in 1999, where the Romanian athletes won a bronze medal. Alina Dumitru won the gold medal at the 2008 Olympic Games in Beijing, China. The Romanian athletes also won two silver medals at the Olympic Games in London, in 2012, a bronze medal in Sydney in 2000 and two bronze medals in Los Angeles, in 1984. In 2017, at the European Open in Belgrade (Serbia), Romanian athletes have won three gold medals.
Also, the activity supported by many Romanian judo coaches was crowned by the title of Coach Emeritus.
The Romanian Judo Federation managed to maintain popular this sport, based on the principles of politeness, courage, honesty, honor, modesty, respect, self-control and friendship, organizing dozens of sports and social activities each year, thus fulfilling its mission to attract as many people as possible to a healthy life.
The postage stamp issue is completed by a First Day Cover, as page composition there were used a sheet of 28 stamps and a minisheet of 5 stamps + 1 label.
For further information, please contact the Public Relation Office:
Tel: 021 / 337 24 42
roxana.herascu@romfilatelia.ro