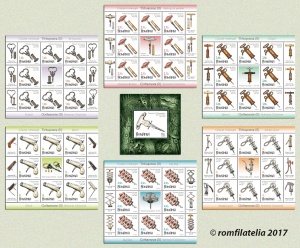 Romfilatelia continues the postage stamps series Romanian Collections through the theme Corkscrews (II), which is made up of seven values that illustrate a renowned collection in Bucharest.
In the past, not only wine bottles were sealed with a cork, but also medicine, perfume bottles, or inkwells. Thus, a tool like the corkscrew could be used to open an inkwell for writing a letter and pressing the seal found on the base of the sheath directly on the melted wax. Therefore, the corkscrew was more of a nobleman's accessory, than one for the commoner.
The historical evolution of the corkscrew can be observed in the greatest collection in the world, certified by Guinness World Records, in 2015.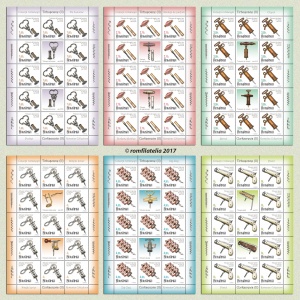 The stamp with the face value of Lei 1.60 illustrates a French, artistic pocket corkscrew, from the 18th century. In that period, wine was destined mainly for aristocrats, while the rest of the population would delight themselves with cider or beer. That is why pieces of this type are always decorated with gold foil and nicely ornamented.
The stamp with the face value of Lei 2.70 illustrates a gold and agate corkscrew. This corkscrew has its sheath and handle ends made of gold and the handle itself is made of agate. It's a type of corkscrew made in the 18th century by French jewellers.
The stamp with the face value of Lei 3.50 illustrates a barrel corkscrew. A British corkscrew with a Thomason mechanism, with the main handle shaped like an oval, and the second one shaped as a snake, it was produced in Birmingham. The innovation of the mechanism is in the removal of the cork without a direct pull, because the simple clockwise twisting of the handle allows for the introduction of the spire into the cork as well as its extraction from the bottle.
The stamp with the face value of Lei 4.00 illustrates a French produced single lever corkscrew, patented by Fernand François, in 1902. This decorated version is called "Le Rapide".
The stamp with the face value of Lei 4.50 illustrates a zig-zag corkscrew, a very rare piece, which, unlike the others in its category, had two sets of levers, separated by a wooden handle. Thus, once the spire is screwed into the cork, the handle is pulled up and the levers extend.
The stamp with the face value of Lei 8 illustrates a pistol corkscrew. It is a French piece, of mother-of-pearl plated silver, which represents a firearm whose trigger is the corkscrew itself.
The souvenir sheet of the issue, with the face value of Lei 16, represents a corkscrew patented in 1904, in Denmark. Its feature is that, although it's used to remove corks, it has no spire. On the other hand, the two serrated blades it has get introduced into the cork, and once the handle is pulled the two blades pull away from each other, hooking the cork from the inside.