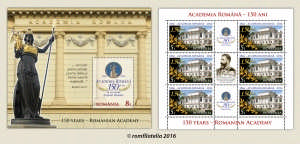 Once development and empowerment started to cover all areas of the country, after the 1859 Union, there appeared the need of creating a central institution for the promotion of literary and scientific creation.
Thus, in April of 1866, the Romanian Literary Society was founded, and from the following year it would be named the Romanian Academic Society.
The 21 founding members, prominent personalities from the Romanian Principalities and Romanian territories under the occupation of neighboring empires, named the institution as national, it being considered representative for the entire Romanian territory.
By decree signed by Carol I (then Ruler), since 1879, the national institution would be called the Romanian Academy.
Among its objectives of significance is the creation of dictionaries, treatises in science, bibliographies, atlases, critical editions of the works of valuable Romanian personalities.
During its 150 year existence, within the Romanian Academy were elected 1703 members, figures in science, literature and arts, both from our country and abroad.
The Romanian Academy has branches in Cluj, Timisoara and Iasi, 68 institutes and research centers as well as the Library and the Academy publishing house.
An important aspect of the Romanian Academy is the external activity, manifested mainly by choosing, within the Romanian academic forum, of many foreign personalities, members of academies and prestigious universities around the world, including 46 Nobel Prize laureates.
In a world that tends to synchronize and based on the globalization process a national academy such as the Romanian Academy has today the urgent mission of great responsibility: to properly mediate between the trend of globalization and national identity. Its predominant role is undoubtedly to defend cultural identity, i.e. deep spiritual values, while taking into account the current trends of history.
Today, at its 150 year anniversary, the Romanian Academy is a landmark and a model in the Romanian society, an active factor in shaping its spiritual and moral fiber, the highest forum of reflection and intellectual, literary and artistic creativity of the Romanian people.
This anniversary moment offers Romfilatelia the opportunity to celebrate in a philatelic manner the 150 years since the establishment of the prestigious Academy of Romania. The stamp and the souvenir sheet of the philatelic issue illustrate the building of the Romanian Academy, with its façade and ornamental details, the anniversary logo as well as the goddess Minerva, providing a unified graphic presentation as well as highlighting the symbolism and importance of the event.
Romfilatelia thanks the Romanian Academy for the documentary support granted in the creation of this postage stamp issue.